Backpacking light, lightweight backpacking or "going light" – all these terms describe same thing, an attitude and hiking gear style. This light approach to hiking is becoming more and more popular not only among long term backpacking pros but also among "light-core" hikers.
You might be wondering:
"What is backpacking light really?"
There are many misconceptions circling around so before you start cutting labels off your clothes, removing pockets or cutting your toothbrush read the guide below.
Backpacking light – the concept
Lightweight backpacking is not a new idea, it has been alive for quite a while. However only recently it stopped being an "extravagant" insider approach and became a more widely practiced technique. The progress in development of new materials for the outdoor industry as well as general mindset shift contributed to increased interest in backpacking light.
What does it mean to go light?
There are no hard rules on when you become a lightweight hiker however there is a common weight guide that will help you understand the basic concept of lightweight backpacking:
Backpacking Weight Guide
| Type | Description | lbs | kg |
| --- | --- | --- | --- |
| Ultralight backpacking | Base weight below | 10lbs | 4.5kg |
| Lightweight backpacking | base weight below | 20lbs | 9kg |
| Traditional backpacking | base weight more than | 25lbs | 11.3kg |
**Base weight => your pack plus gear weight (excluding consumables like water, food, fuel etc.)
What to consider before reducing your base gear weight?
1. Safety and comfort
Never sacrifice any of these while lightening your load. We are all different and have different needs. What makes others feel safe and comfortable doesn't need to apply to you. Once you start a process of reducing your pack weight always reflect on yourself and ask yourself if a certain change will affect your safety or comfort. If you're not sure always stay on a safer side even if it means a slightly heavier gear option. With time you will develop your skills and push your comfort zone and be able to move on with a lighter version of the gear.
2. Destination and conditions
What type of gear you'll take with you heavily depends on where and when you'll be hiking. Think thoroughly what will be your travel areas and what weather conditions you can expect to encounter. Analysing the above will give you a strong indicator of your gear needs and will make you gear choices much easier.
3. Physical fitness and personal preference
Be fair and honestly assess your fitness level. Do you have back issues, problems with knees or ankles? Knowing your body and its limitations is very important in choosing proper gear that will perfectly suit your needs. Additionally to the later everyone has their preferences – not everyone might be comfortable with swapping their hiking boots to trail runners. Always make gear choices you are comfortable with. As you gain more experience you'll also gain confidence in using new types of hiking gear.
Now:
I have started my backpacking adventure straight with a lightweight status. It was my conscious choice to pick the gear that would serve it's purpose, keep me safe and comfortable and be lightweight at the same time.
It took many hours of research and comparison to create a perfect gear set. I hope that the guide below will make this process easier for you whether you  start hiking or just looking to lighten your pack.
Backpacking light – gear recommendations for beginners
1. The BIG three (+1)
Term "big three" refers to three heaviest items of your hiking gear: shelter, sleeping bag and backpack. In this guide I have added a +1 which is a sleeping mat. For me all those items belong into one category and should be discussed together.
You should always start lightening your load with your big three (+1) if you're aiming to start backpacking light. Exchanging those items into their lighter versions will be a biggest weight reduction you'll make.
Shelter
Sleeping bag
Backpack
Sleeping mat
2. Cooking Gear
Another step towards backpacking light is to decrease the weight of small items that you carry with you. On my list cooking gear is next in line – re-thinking your stove, pot and utensils options can save you some additional pounds.
Stove
Pot
Bowl/Cup
Misc Utensils
3. Hydration System
Switching to a lighter versions of your bulky Nalgene bottles and pump water filters can considerably decrease the weight of your load.
Water storage
Water treatment
M
y water storage of choice is a 2l water bladder which I carry in my backpack. It's very convenient to transport and use it and it weighs only around 0.23lbs / 0.12kg. The only downside is that you don't really know how much water you have left so you need to double check every so often. Additionally to the bladder I carry a fold-able 1l water bottle Source Liquitaner. I use it mostly to gather my filtered water.
As with everything selection of water treatment options is vast. You can go for gravity filters, pump filters, squeeze filters, UV pens and chemical treatment. Most common water treatment combination in backpacking light is squeeze filter plus some kind of chemical treatment. I think the most popular and very good squeeze filter comes from Sawyer – hikers swear by it and I personally also own one. They come in couple of variations, I bring Sawyer MINI Filter as a main water treatment ( 0.18lbs / 0.08kg ) and Aquamira drops as a backup if water is really suspicious.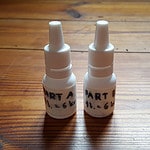 I don't carry the drops in their original packaging, you don't need that much. I "repackage" the amount I know I could use into a small dropper bottles and that works perfectly fine.
4. Tech Gear
Nowadays there are so many clever and useful tech solutions that you might end up carrying way too much. I'm trying to keep my tech items to a minimum as they tend to weigh a bit. This is the typical set I carry on most of my trips.
Not so long ago I switched from my Sony CyberShot to Lumix DMC-LF1 due to size and performance. My new Panasonic is the perfect fit for my needs, it's relatively small, not so heavy ( 0.41lbs / 0.19kg ) and takes great pictures. I can easily put it in my hip belt pocket and it doesn't bother me with it's size or weight. There are couple of cameras with better performance and size/weight but their price was too high. Lumix is the best compromise – great quality images, super weight and size and affordable price.
When you hike or travel solo you need some kind of support in taking those awesome pictures. What fun would it be not to show your face in front of those beautiful mountains? My tripod of choice is JOBY GorillaPod – it's an awesome piece of gear. You can attach to anywhere you wish fences, trekking poles ( your selfie stick ) you can even hang it. Small and weighing only 0.1lbs / 0.04kg is a great companion
I don't take it with me on every hike but only when the terrain is unknown and can pose some navigational difficulties. Garmin is making one of the best hiking gps units available and I have one of their Garmin eTrex Touch 35. It's a newer version of their best selling eTrex series and performs really good. Small and light it's a good navigational support.
5. Other Items
Ten Essentials
Trekking Poles
Clothing & Footwear
Regardless if you're going light or sticking to a traditional way you should always carry your ten essentials with you. It's the list of gear necessities that will increase your safety and preparedness while pursuing your outdoor adventures.
I guess this is a personal preference but honestly I can hardly imagine going on a hike without my poles. I'm a proud owner of Black Diamond Alpine Carbon Cork trekking poles and wouldn't leave my house without them. It's an invaluable piece of gear that saved my ass ( or rather knees ) more than once. Apart from being a great support in walking they also serve me as a selfie stick and my self defense tool. I can honestly say those trekking poles are my favorite piece of gear. If you're not using them yet I strongly encourage you to do so – the difference in hiking experience is enormous.
It's a separate topic for itself and you can find all the details in my post about hiking outfit!
Backpacking light – it will change your life
The weight of the setup I described above fits perfectly in the lightweight backpacking range. The overall weight of the gear is 12.99lbs / 5.89kg. With couple of clothing pieces tucked away in your pack you'd still stay below 20lbs / 9kg.
Remember:
on top of the gear described above you always need to count food, water and fuel as additional weight in your pack. This will increase your load considerably that's why keeping your base weight as low as possible is so important.
Get FREE checklist to organize your gear
right now!
What's the bottom line?
Whether you're reducing the weight of your load or you're collecting you gear it will take time until you get your perfect set and achieve a desired weight. Take your time because you want your gear to last and serve you for a long time.
Remember always consider your own needs and preferences before following someone else's gear choices. Develop your skills, gather knowledge and experience by simply going out there and you'll see choosing the right equipment will become much easier.
 Are you planning to start backpacking light or are already in a process of reducing your load? What are you lightweight tips? LET ME KNOW IN THE COMMENTS, TWEET ME OR WRITE ME ON FACEBOOK!
Keep hiking!
Disclosure: If I like a product and that product has an affiliate program, then I will link to that product using an affiliate link. Using an affiliate link means that, at zero cost to you, I might earn a commission on a product if you buy something through my affiliate link.