The best and highest quality Christmas gift ideas for hiker between $25 and $50. From t-shirts to a solar charger here you will definitely find something for a special hiker in your life!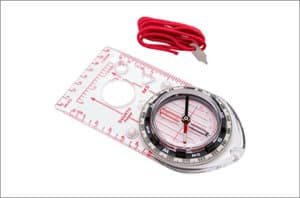 Every hiker should carry a compass and Sunto M-3 is a great choice. It's light and easy to use. It's also balanced for northern and southern hemisphere as well as enables to adjust a declination.
Take the adventure into your every day life! Outdoor inspired t-shirts in variety of designs and colors. Original and made with love of outdoors.
This 1.1 or 1.8 l boiler is made of anodized aluminium which makes it light and durable. You can easily pack your gas and stove inside and together with collapsible handle it creates a nice, compact cooking system.
One of the best hiking underwear for men. Mesh fabrics is breathable and light. It wicks moisture very well and dries quickly. They're stretchy and allow full movement freedom.

Great performance underwear for active women. Mixture of wool and elastic, synthetic fibers creates a very functional piece of clothing. Merino wool prevents bad smells and provides great temperature control.
NG makes great illustrated maps. They're waterproof and tear resistant – perfect for the trail. A map bundle gift is a great motivational idea for every hiker.

This is a must have gift for all hikers hiking in bear country. Bear encounters are dangerous and being prepared for them is essential. This spray has maximum strength allowed and will keep a distance of 30 feet between you and the bear.

They're probably the most popular insoles on the market. The offer great arch support and are suitable for any type of footwear. Replacing original insoles with Superfeet immensely improves hiking comfort.
I've been an Anker power bank user for a while now and I'm really happy with it. They charge fast thanks to Quick Charge 3.0 technology and provide enough power to support all my necessary electronic devices. Solid piece of gear.

Another piece from Anker I'm recommend – a lightweight and efficient solar charger. It's thin and compact and provides power independence on long hikes. Together with a Anker power bank it creates a great off grid power source.

I can't imagine a good night sleeps without a pillow, even in the outdoors. Aeros is a really comfortable pillow with a nice soft surface. The stretchy material works great and you can regulate the firmness using special valve. Perfect outdoor gift.
An ideal gift for all hikers who just can't live without their coffee! A lightweight option for a morning espresso or americano in the afternoon. Easy to use and clean makes a really great coffee in just about 2 minutes. A must have gift for all outdoor coffee lovers!
Check out some other Christmas gift ideas for hikers in a different price ranges!
Disclosure: If I like a product and that product has an affiliate program, then I will link to that product using an affiliate link. Using an affiliate link means that, at zero cost to you, I might earn a commission on a product if you buy something through my affiliate link.