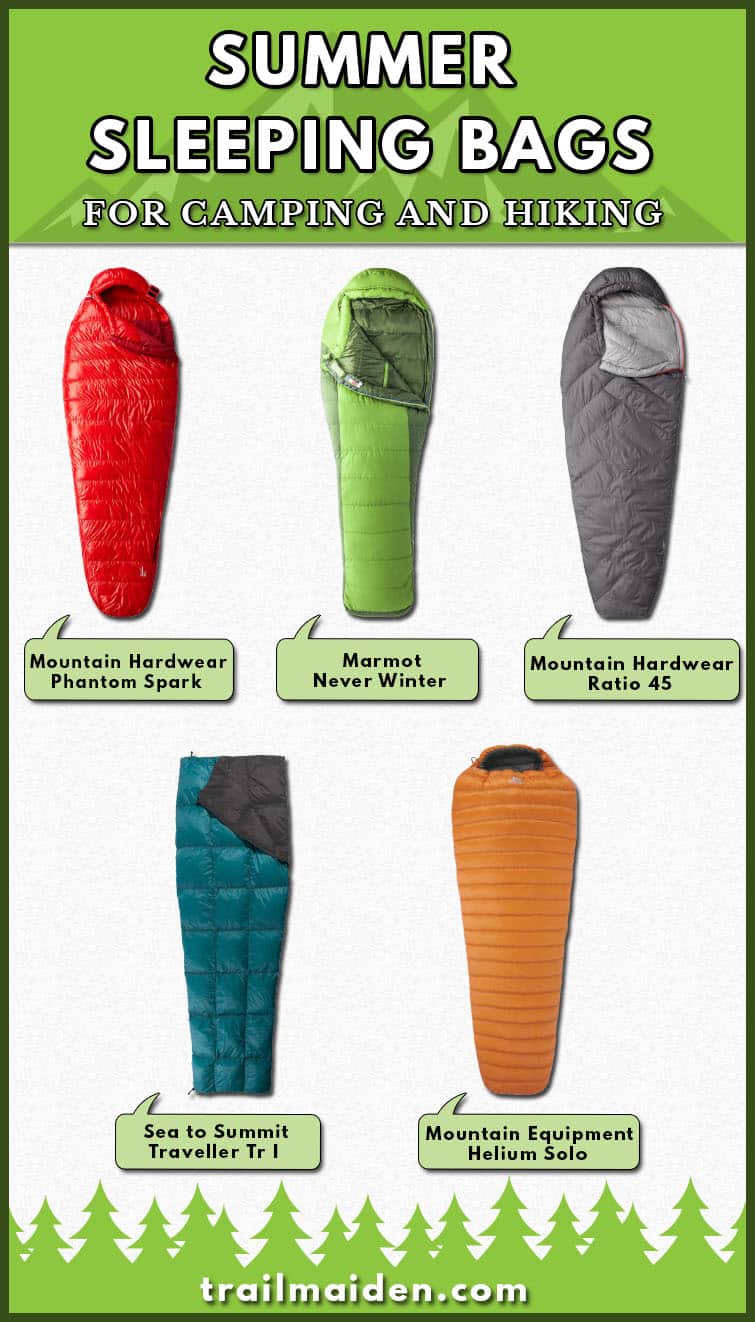 Slowly the nights are getting warmer and warmer and night frost is no longer a problem. This is when we can finally start using our lighter and smaller sleeping bags without of fear of getting cold.
The choice of summer sleeping bags is huge and it's hard to decide which bag you want or need.
To help you I have prepared a list of most popular and high quality sleeping bags for your summer camping, hiking or backpacking.
Quality Summer Sleeping Bags for Camping and Hiking
Mountain Hardwear Phantom Spark
This mummy shaped sleeping bag uses a Q.Shield hydrophobic down to make sure to keep you dry when your surrounding is moist. 800 cuin fill ensure you get the best loft possible while keeping you warm.
It has a great hood which insulates and protects your face against wind as well as draft collar to keep this warm air in the bag. Full length zipper makes going in and out very easy. It weighs 629g / 1.3lb so it definitely won't weigh you down. 2C / 35F comfort temperature should keep you warm even during cool alpine summer nights.
Marmot Never Winter
This 30F degree rated sleeping bag is filled with 650 cuin down to ensure you stay warm on those chilly summer camping nights. The down has been treated with Down-Defender water repellent to minimize the moisture absorption and maintain your bags loft. The outer nylon has additionally been treated with DWR to repel tent condensation and protect you against drafts.
This summer sleeping bag includes a draft collar to trap warm air, shaped hood, zipper tube to prevent cold air to creep through it and an anatomically shaped foot box. Weighing 830g / 1.8lb it's still on the light side.
Mountain Hardwear Ratio 45
This wallet friendly summer sleeping bag with innovative ThermoTrap Baffle construction is filled with 650 cuin down which additionally received Q.Shield treatment to preserve bag's loft and isolation capabilities in moist environments. Special construction ensure that down stays in place and is distributed evenly across all the chambers.
Mummy construction has all the typical elements of a good sleeping bag: zipper tube to prevent cold air coming through, draft collar, insulated hood with a one-hand cinch cord. Inside of the bag is lined with taffeta lining which gives nice and soft feeling. Weighing 733g / 1.6lb it definitely places itself among the lightweight summer sleeping bags. Comfort temperature of 10C / 50F is enough to have a nice summer sleep.
FREE tips

to care of Your sleeping bag like a
PRO!
Sign Up now and get your free version of a care guide.
Sea to Summit TRaveller Tr I
This is a perfect companion for summer camping. It's small and light weighing only a minimal 389g / 0.8lb and great if you want to share with someone as it can open completely and be used as a blanket. Ideal for couchsurfers or as car camping sleeping bag.
Comfort temperature has been set to 14C / 57F so it's really only suitable for a warm nights. It's filled with 750 cuin Ultra-Dry down and packs really tiny.
Mountain Equipment Helium Solo
Another typical summer sleeping bag with comfort temperature of 13C / 55F ideal for warm summer camping or mountain hut tours. This bag is made with Helium fabrics which are very light and durable and protect against wind and heat loss.
The bag is filled with quality 725 cuin duck down and it weighs a minimal 400g / 0.8lb. It's ideal for people who don't need too much insulation and require the lowest weight possible.
FREE tips

to care of Your sleeping bag like a
PRO!
Sign Up now and get your free version of a care guide.
WHAT IS YOUR favorite summer sleeping bag? LET ME KNOW IN THE COMMENTS, TWEET ME OR WRITE ME ON FACEBOOK!
Disclosure: If I like a product and that product has an affiliate program, then I will link to that product using an affiliate link. Using an affiliate link means that, at zero cost to you, I might earn a commission on a product if you buy something through my affiliate link.