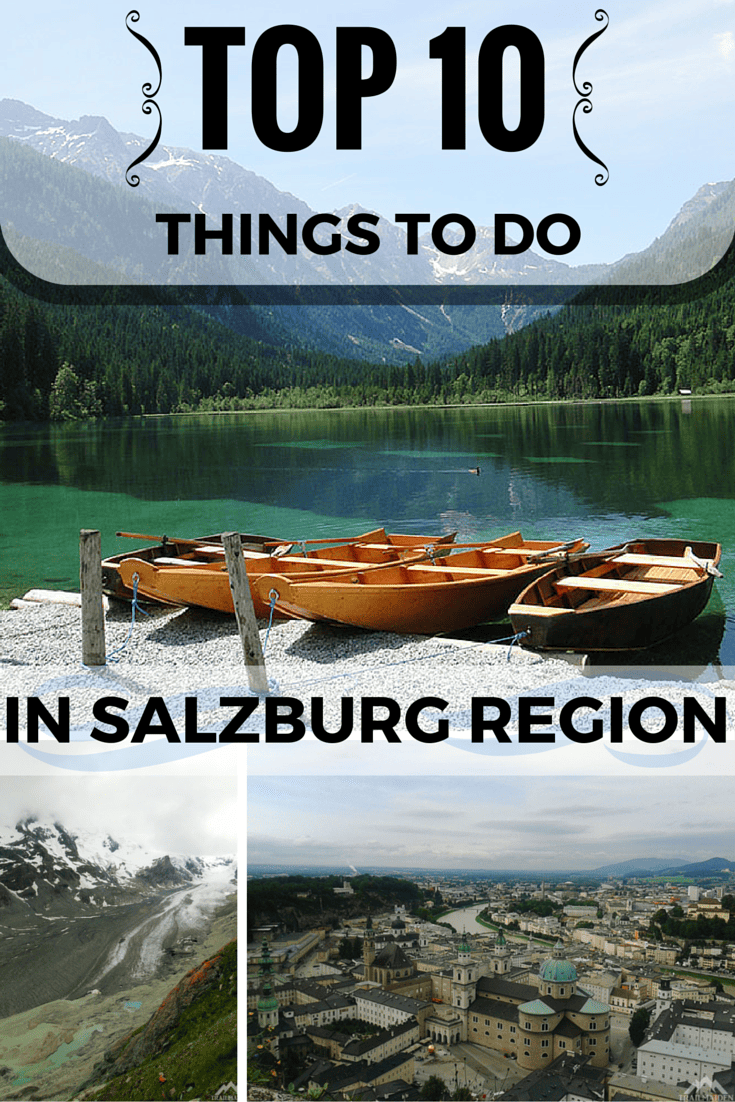 You should visit Austria at least once in your life because it's one of the most beautiful and friendly countries in Europe.
You heard of Austria right?
The alpine country tucked away in central Europe offering everything that a thirsty tourist might want. Culture, sports, history, food – I could go on forever. One of the best places that offers all of the above and more is Salzburg region located in the north of the country on the border with Germany. Being one of the smaller regions it still offers plenty of things to do and see.
Discover the most amazing attractions of Salzburg region and plan your next trip today.
Things to do in Salzburg Region – discover hidden gems 
1. Salzburg
When talking about Salzburg region attractions I have to start with the capital of the province. This amazing place offers more than enough to fill your day(s) with things to do. Beautiful Baroque city a home to Mozart will enchant you, you will fall in love immediately. Walking through the small streets of old town, indulging on a fresh market food and admiring the amazing architecture will leave you wanting more.
There are plenty of things to do in Salzburg and below there are the best ones you can put on your list:
Hohensalzburg Fortress – Overlooking the city from the top of the hill the fortress in one of the main attractions. You can get to it by foot walking up the designated path or you can use a special cable car which takes you up in less than a minute. The views from the fortress are wonderful – better prepare this panorama mode or your selfie stick.
Mozart's Birthplace – If you're interested in history and especially Mozart's life this is a must see for you. A wonder-child composer became city's main mark. This museum is one of the most frequently visited museums in whole of Austria showing how Mozart grew up.
Hellbrunn – Placed on the outskirts on the city Hellbrunn palace is a charming place to see. Intriguing "trick fountains" and beautiful park are making this sightseeing point well worth visiting. If you're travelling with children you can take them to a small zoo or just leave them playing on the playground in the park.
DomQuartier Salzburg (Salzburg Cathedral Quarters) –  It's a truly impressive museum. These interiors and outside spaces have been unavailable to the public for over 200 hundred years until only recently. Great museums providing you insights on archiepiscopal power.
An amazing 48km panoramic road leading through the heart of Hohe Tauern National Park is one of the most breathtaking landscapes I have ever seen. It's also one of the highest routes in whole of Austria. 36 turns take you towards your destination point which is Kaiser-Franz-Josefs-Höhe where you park your car and feed your eyes with views out of this world. The road itself is wide and safe with many small parking lots on the sides. You will want to use these every 10 minutes to stop and take pictures. Guest center at Kaiser-Franz-Josefs-Höhe is also a gate to our next Salzburg region attraction – Pasterze Glacier.
3. Pasterze Glacier
With its nine kilometers it's the longest glacier in Eastern Alps. To get to it from Kaiser-Franz-Josefs-Höhe you can take a funicular which brings you all the way down to the front of the glacier's tongue. From there you can walk up the glacier and explore its surface. There is also a roundtrip available starting from Glockner House (2,121m). Going back up is very strenuous though – keep that in mind. On the cloudy day when you're on the glacier you actually feel like you're on the moon – the landscape is incredibly similar. Interesting as well as alarming are the flags marking the position of the glacier in the past 60 years. You can see how much the global warming has influenced the size of the ice tongue.
4. Eisriesenwelt – the largest ice cave in the world
You heard it right – the Whole.World. It's obviously a must see. Getting to the cave can be a little bit of a hassle though. You need to drive to Pfarrwerfen and park your car on one of the designated parking lots. Then you need to walk to the cable car that will take you from 1084m to 1586m in just couple of minutes. After you reach a top station you need to walk another 20 min to reach the cave's entrance. All this is nothing really considering the fact that until early 1950's you could reach the cave only by foot. So no complaints.
The entrance to the cave is protected by a massive door which opens only to let people in and out. This system ensures that the cave system is stable and mitigates the risk of deterioration by high temperatures. Guides form people in groups of around 10 people. Every second person receives a carbide lamp (old fashioned with open flame) to light the way for the group. The trip inside the cave is quite demanding – it's cold, often steep, slippery and dark. By dark I mean DARK. The only light you have is the small carbide lamp, that's it. It's a shame actually cause you don't get to see the true vastness of this cave – you can feel it though. Despite limited lighting and quite demanding route the Eisriesenwelt is definitely one of the best things to do and see while in Salzburg region.
Located 2,040m above sea level 107m high and 500m long dam is an amazing place to visit. After reaching a departure station you need to buy a ticket and you're taken all the way up by a comfortable shuttle bus. During the ride you're glad you didn't have to take the route yourself. Once you reach Mooserboden reservoir you can start exploring the dam and the area around it. The whole trip is very family friendly and comfortable – in the end it's Austria.
6. Lakes Jägersee and Tappenkarsee
If you're planning what to do in Salzburg region or where to go these two places have to find their place on your list. Both lakes are like taken out straight from a fairy tale. Amazingly blue and clear water (and cold as hell!), charming vegetation and the surrounding mountains will make you feel like you've just reached far far away land.
If you're little lazy or with children easy to reach Jägersee is your spot. Easy and calm path takes you around the lake and provides truly wonderful views. The whole stroll lasts around 1-1,5h. After that you can enjoy your beer, lemonade and the views at Gasthof Jägersee.
If you're more into action and proper hiking a trail from Jägersee to Tappenkarsee is what you want to do. You have two options either you leave your car by the Gasthof Jägersee or you drive little more further towards Parkplatz-Schwabalm. The hike up is not the easiest one and it takes around 2h to reach the Tappenkarsee and another 30 min to get to the mountain hut. Don't be discouraged all your sweat will be rewarded cause the views are stunning! You will fall in love with this place. Plus hand-made Kaiserschmarrn with compensate ANYTHING.
Is one of the longest and most picturesque gorges in whole Alps. Located near a small town Sankt Johann im Pongau it's a great idea to plan a day trip.
Wide, wooden paths lead you through almost 1km long gorge. At time the stone walls are so narrow that the sky is just a small strip of light above your head. A small section of the path runs through a tunnel. It has been created as a replacement for once outside hanging, difficult in maintenance wooden section. Speeding masses of water have created an amazing scenery you just must see with your own eyes.
8. Krimml Waterfalls – Europe's highest waterfalls
Located in the heart of Hohe Tauern National Park, Krimml Waterfalls are one of the nicest attractions in Salzburg region. It offers a variety of activities for the whole family. After its re-opening the waterfalls attracted over 350k visitors and have become one of the most visited attractions in Austria.
So what is waiting for you there?
Waterfall centre – underwater Aquaszenarium, terrace with a waterfall view, gastronomy and a souvenir shop
Haus des Wassers – with Swarovsky telescope to view the waterfalls in the distance, interactive cinema and exhibition with multiple experiments
Water Park – an outdoor area with water games and experiments
Krimml Waterfalls – with view platforms, paths and a barrier free access point for those 1st class holiday selfies
9. Hohenwerfen castle
Hohenwerfen is an over 900 years old medieval fortress towering over Salzachtal valley. Within its walls you'll find weaponry museum as well as historical falconry center. Especially those falcon shows are worth taking part in.
The fortress is also a stage for many events like medieval life show, falconry shows, exhibitions etc. They're also organizing children festivals so parents stay alert.
10. Zip Line in Leogang
Alright after all those relaxing experiences it's time for something with a proper adrenaline kick! You've ran out of ideas on things to do in Salzburg and the area? Well look no more.
With a speed of 130km/h and 1,600m length it's one of the longest and the fastest zip lines in the world. You will fly 140m above the trees and feel more alive than ever. It's an amazing experience and honestly it looks scarier than it is. So if you want to diversify your stay in Salzburg province put this flight on your list of things to do.
Now..
Did you realize how many times "biggest in the world/Europe" phrase I used? This is because Austria and especially Salzburg region have so much to offer when it comes to tourism. So if I was you I would immediately put it on my destination list and start planning the trip.
Your turn now – did you visit any of the above places? Or maybe you liked some more than others? Let me know!