Winter hiking outfit is very specific and layers play a great role in it. Every piece of your clothing has a specific task to perform and all together they create a system that will keep you dry and warm.
You know about layering and how useful it is. In winter though it becomes a key to staying warm, dry and comfortable. Mastering the skill of proper clothes layering is essential if you want to do winter hiking.
Winter hiking outfit – layering
The layers you're wearing have to be wicking, quick drying, insulating as well as breathable and waterproof. By adding/removing layers you will be able to perfectly regulate your temperature and make sure you don't sweat excessively or run too cold.
Now three layers are enough for most weather conditions, even winter. In an extremely cold weather you might level up to four layers but in majority situations three layers are fine if you're using a little heavier mid-layer. If temperatures are not overly cold you might even be fine with 2 layers – base-layer and outer-layer or DWR coated mid-layer.
There is a hiking rule of thumb when it comes to layering:
| Temperature | Layering |
| --- | --- |
| below 0°F | 4 layers |
| between 0°F - 20°F | 3 layers |
| between 20°F - 50°F | 2 layers |
Now everyone is different so treat the above as a guideline and adjust to your personal preferences when creating your perfect winter hiking outfit.
Before we go into more detail about layers, remember – when adding layers every new layer must be bigger/roomier than the previous one. If layers are too tight the whole idea of insulation is destroyed by layers compressing each other. There must be enough room for the warm air to be trapped and kept.
Now let's look into each layer:
Base-layer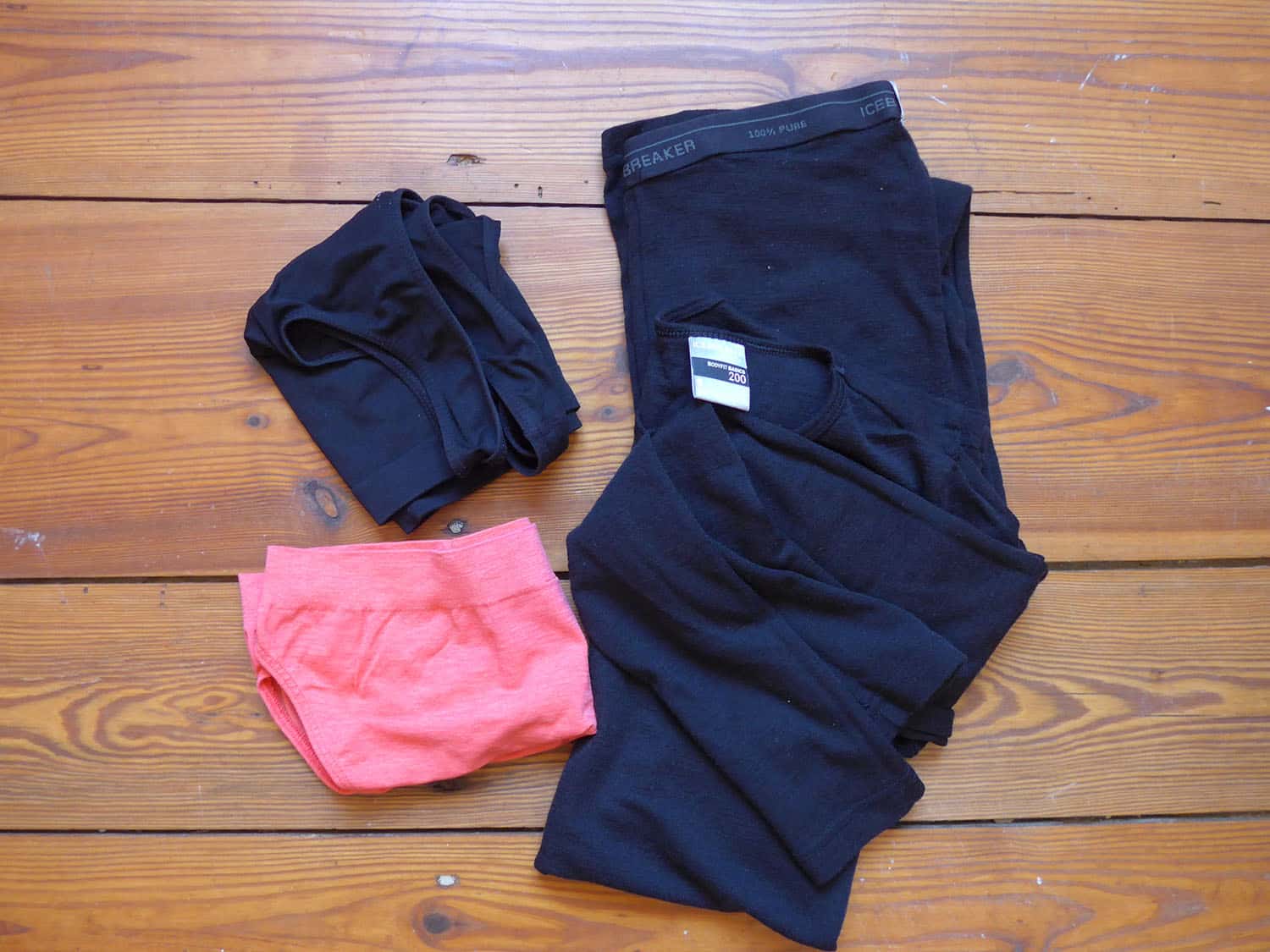 It's task is to essentially keep you dry. It will provide a little warmth, especially if you're wearing merino clothing, but its main goal is to wick away the moisture and keep your skin dry. Being dry means being warm. You want your base layer to fit your body tightly, that way wicking works the best. You might want to go for synthetic fiber, mix fiber or wool. I personally find merino wool the best fit. Wool transports the moisture away fairly good but what's best about it is that even if you sweat a lot and your base-layer gets soaked merino will still keep you warm – that's the magic I love. So what are winter hiking base-layer components?
Underwear – meaning panties and a bra. We will talk about socks little later. For women I recommend Icebreaker Siren made with merino and synthetic and for men Under Armour Boxers made with a synthetic mesh which amazingly wicks the moisture away.
Long sleeve shirt – if you're an avid fan of merino as I am you'll love Icebreaker and its products. They have a great base-layer line Oasis for both women and men. High quality clothing. For synthetic lovers I would recommend shirts made by Patagonia. The Capilene series is available both male and female versions.
Long leggings – Same as long sleeve my pair of leggings is made of merino by Icebreaker. For a good synthetic alternative I would again recommend Patagonia Capilene or ExOfficio Stretch-N-Go.
Mid-layer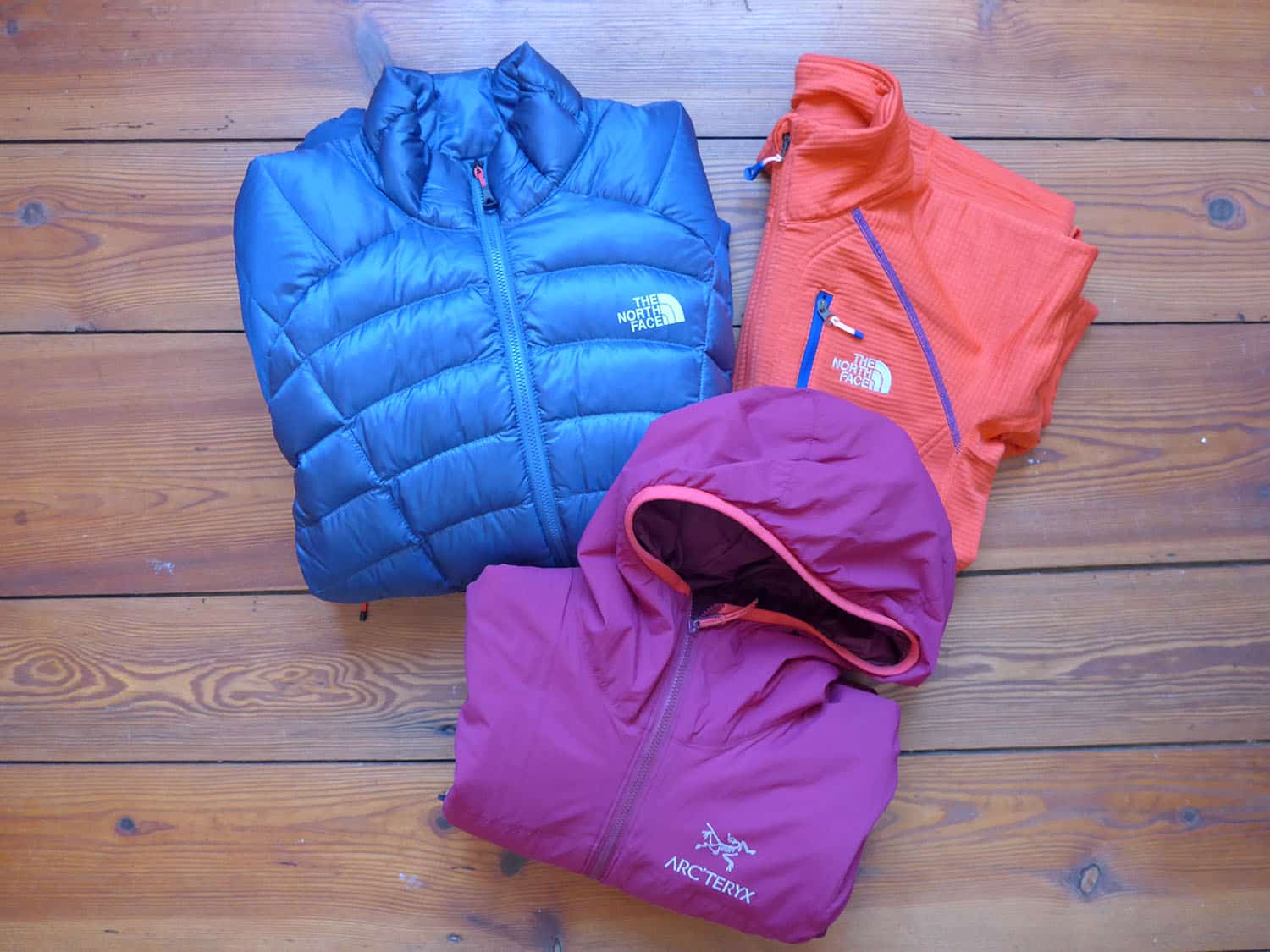 That's the layer that should keep you nice and toasty at all times. It should have same great wicking properties as your base layer – they need to work together. It will transport the water away and trap the warm air. In moderate cold I would recommend synthetic mid-layer. Some people like fleece, some wool but I would totally encourage you to go for Primaloft. It's a synthetic fiber that has a great warmth to weight ratio and it also dries quickly. There are several types of Primaloft out there but there are three jackets that I would recommend:
TNF Thermoball Insulation Jacket
– in cooperation with Primaloft TNF has developed a synthetic fiber that in its structure resembles down. The fibers have a fluffy, ball shape just like down but they keep all the performance factors of synthetic. It's a great, lightweight insulation jacket for high activity. The only minus is that due to its baffle construction it's not really protecting against wind or light precipitation.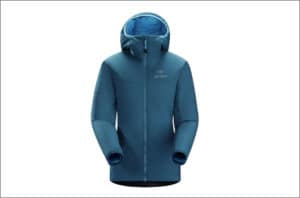 Arc'teryx Atom LT Hoody – I personally vouch for this jacket's performance as I've been using it for over two years now. It's filled with Primaloft Coreloft and has a number of great features. I have been wearing it in all possible conditions and it always performed great. It breathes very well and provides an amount of warmth you wouldn't expect from such a light jacket. I wore it in temps around 20F with just a wool base-layer and it felt perfect. The cool thing is that it has a DWR coating which makes it wind resistant and water repellent. Stretchy sides are not padded and remove excess warmth. All in all awesome mid-layer for your winter hiking outfit.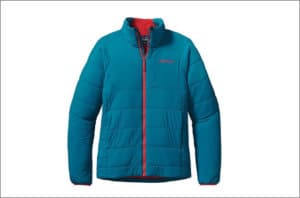 Patagonia Nano-Air Jacket  – this mid-layer has been voted to be the best temperature managing jacket on the market. It's filled with FullRange synthetic fibers a revolutionary product of Patagonia. It has been tested and proved as the best breathable mid-layer. It's stretchy and soft as well as water repellent and wind resistant thanks to DWR coating. Combined with outer shell it provides and incredible amount of warmth considering it's size and weight. A high performance jacket for high output activities
If it's really cold you can bring another mid-layer for additional protection. It can be either synthetic or down which packs small and provides a lot of warmth. Those extra layers will come handy when you stop or are at your camp preventing you from losing too much warmth.
Outer layer
That's the last layer and it will have a direct contact with the elements and protect you against them. So called shell can be made from a different kinds of fabrics GORE-TEX, eVent etc. Essentially it should be windproof and waterproof ( note the difference between water resistant/repellent) and as breathable as possible. It's important to have a jacket that provides some ventilation options like pit zips, big pockets etc. Outer shell should be roomy enough to put a base-layer and a heavier mid-layer underneath without compressing it.
Best Hardshell Jackets of 2016
Rank

#1

#2

#3

#4

Product



OR Aspire Jacket




Marmot Precip Jacket




Patagonia Torrentshell Jacket




Arc'teryx Alpha SV

Price
$150 - $215 online
$50 - $110 online
$84 - $130 online
$350 - $540 online
Rating
Pros
- ventilation
- durable
- comfortable
- all rounder
- affordable
- packable
- breathable
- highly functional
- affordable
- packable
- breathable
- functional
- lightweight
- good fit
- very good hood
- great quality
Cons
- pricey
- heavier & bulkier
- not that durable
- not really stylish
- less comfortable
- not really stylish
- expensive
- noisy material
Weight (oz)
13.7 oz
11.4 oz
11.3 oz
11.5 oz
Waterproof rating
30,000mm
10,000 mm
20,000 mm
GORE-TEX® Pro standard
Winter hiking outfit – other clothing
Pants 
When it comes to that you have a couple of options here. If you're hiking in deep snow wear base-layer leggings and waterproof trousers. When the trail is in good condition and it's relatively cold wear leggings and outer pants of your choice. When the trail is in good condition and it's not too cold outer pants will do just fine.
Socks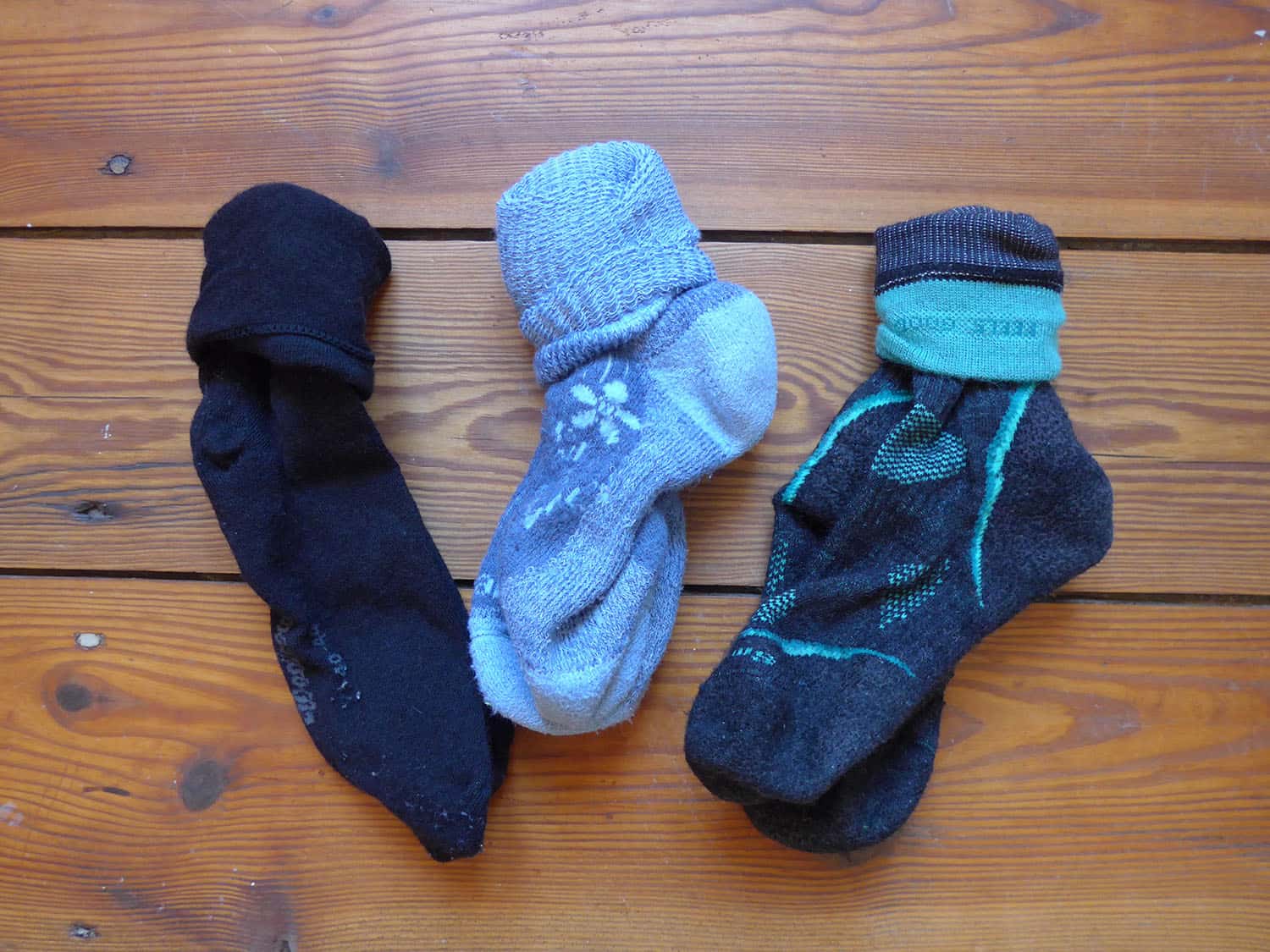 For winter hiking I highly recommend wool socks as part of your outfit. They provide the highest amount of warmth. For cold weather hiking wear thinner liner socks paired with thicker outer pair. This way your feet will always stay warm. This system will also prevent blisters – the last thing you want to worry about in winter. When hiking in winter always take a second pair of dry socks with you – you never know when you'll need them.
Boots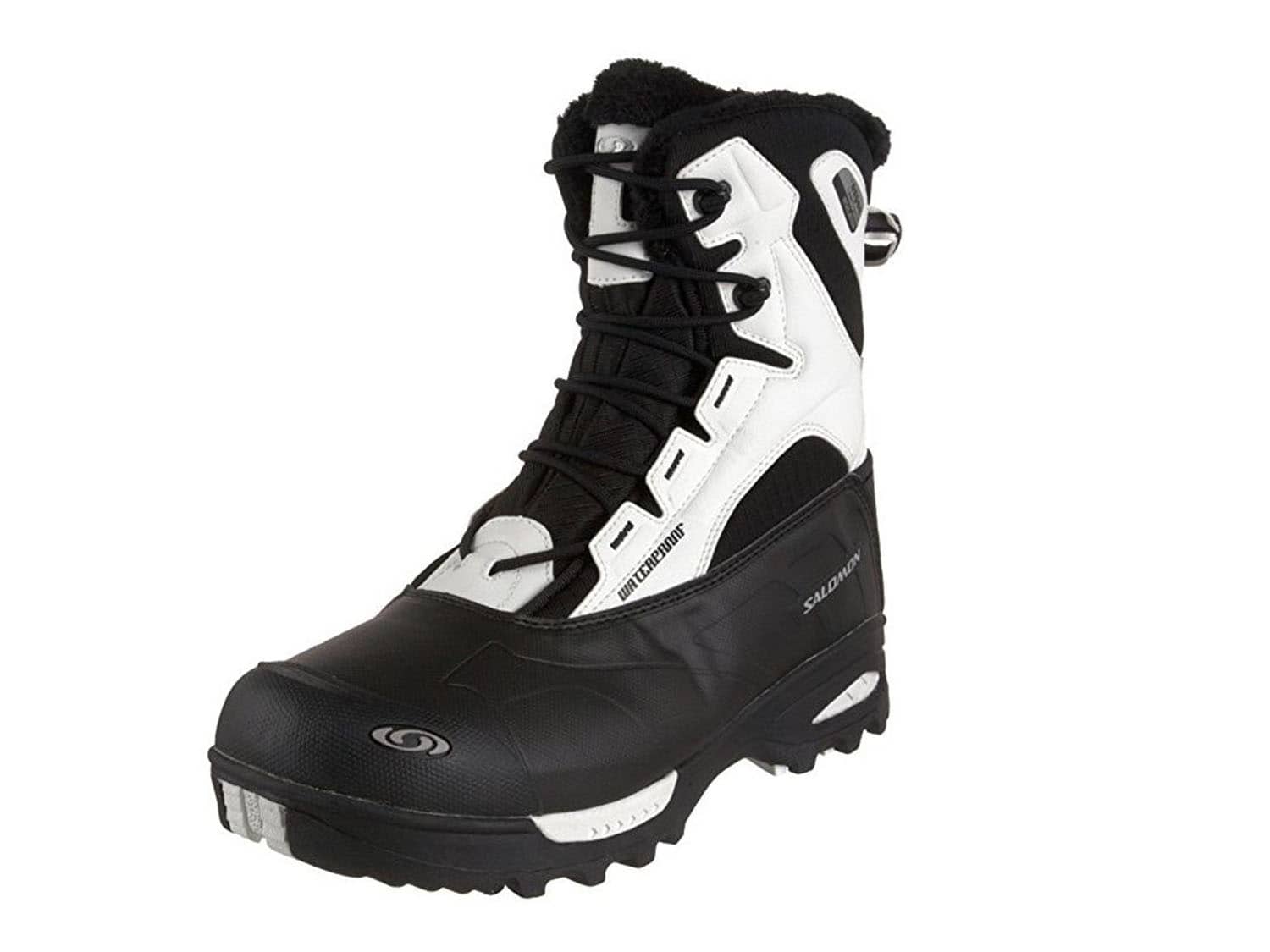 For all other seasons I recommend trail runners or other mesh made shoes. However when hiking in winter you need to be equipped with proper waterproof, high boots with good traction. They will provide enough protection and stability to walk in snow for hours. When buying winter hiking shoes make sure you wear double layered socks – this way you will buy shoes which aren't too small to fit thick, winter layering. Make sure you still have enough space to wiggle your toes etc. You don't want your boots too tight.
Gloves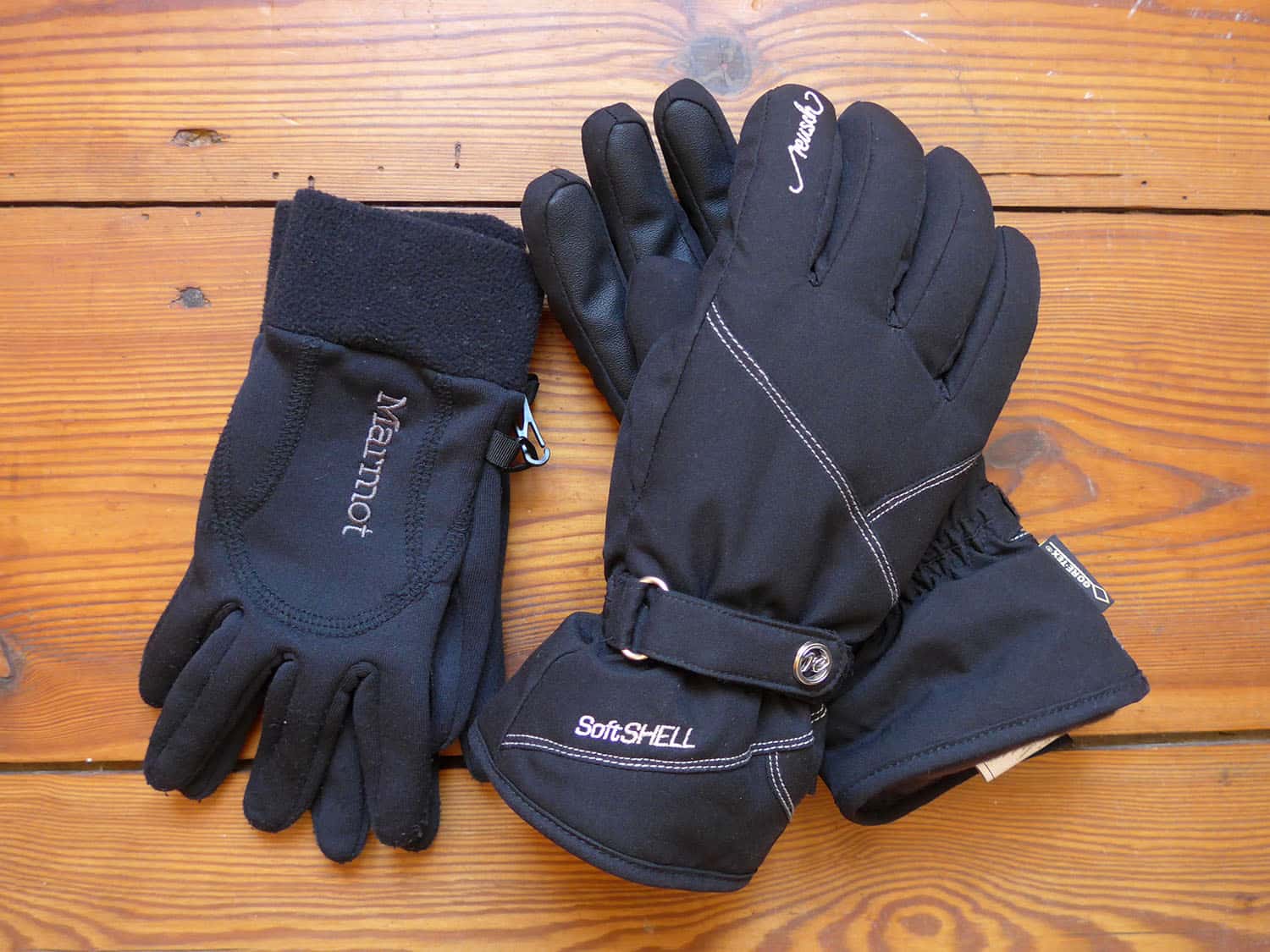 In winter a must. Especially when hiking with trekking poles you need to protect your hands against cold. As with any other type of clothing you can layer your gloves if necessary. Always take a liner gloves which are bit lighter and well wicking. You can then pair them with either mittens or normal, waterproof winter gloves. Mittens are great when hiking in winter as they preserve warmth very well. However if you know you'll be making regular stops use winter gloves for more finger mobility.
Hat, balaclava and neck warmer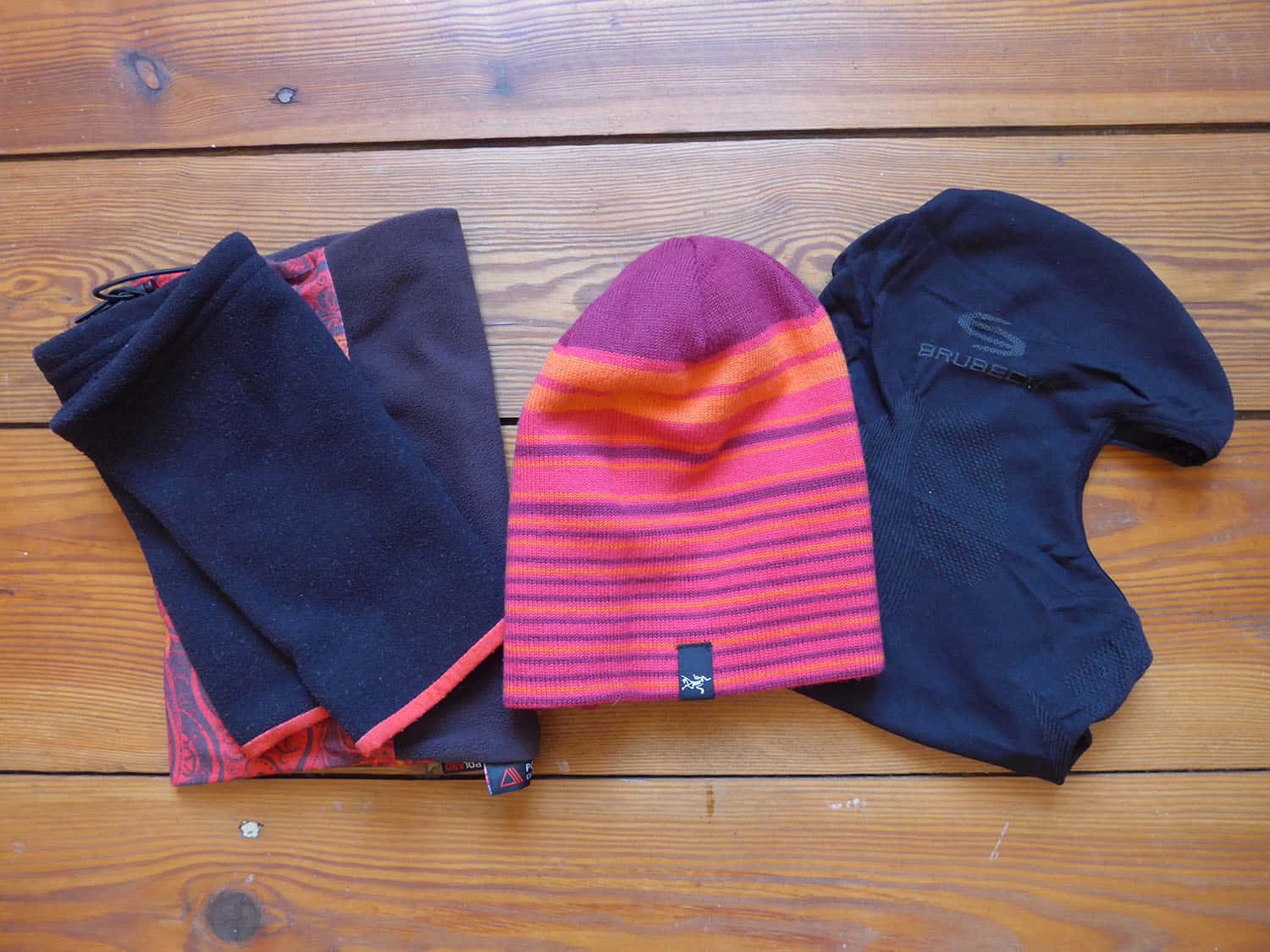 It's so obvious, right? You at least need to have a hat with you. Cold wind or snowfall can very quickly become a problem. Get something nice and warm like Arc'teryx Beanie or an insulated hat with a wind stopper for this additional protection.
Use the balaclava when hiking in very cold weather or in strong wind ( like above tree line ) It will protect your face against windburn and make breathing easier.
For me a neck warmer is a must – I can't imagine hiking in winter without it. You can a regular buff or the one made with fleece. There are also great neck warmers made with merino wool for additional warmth.
Gaiters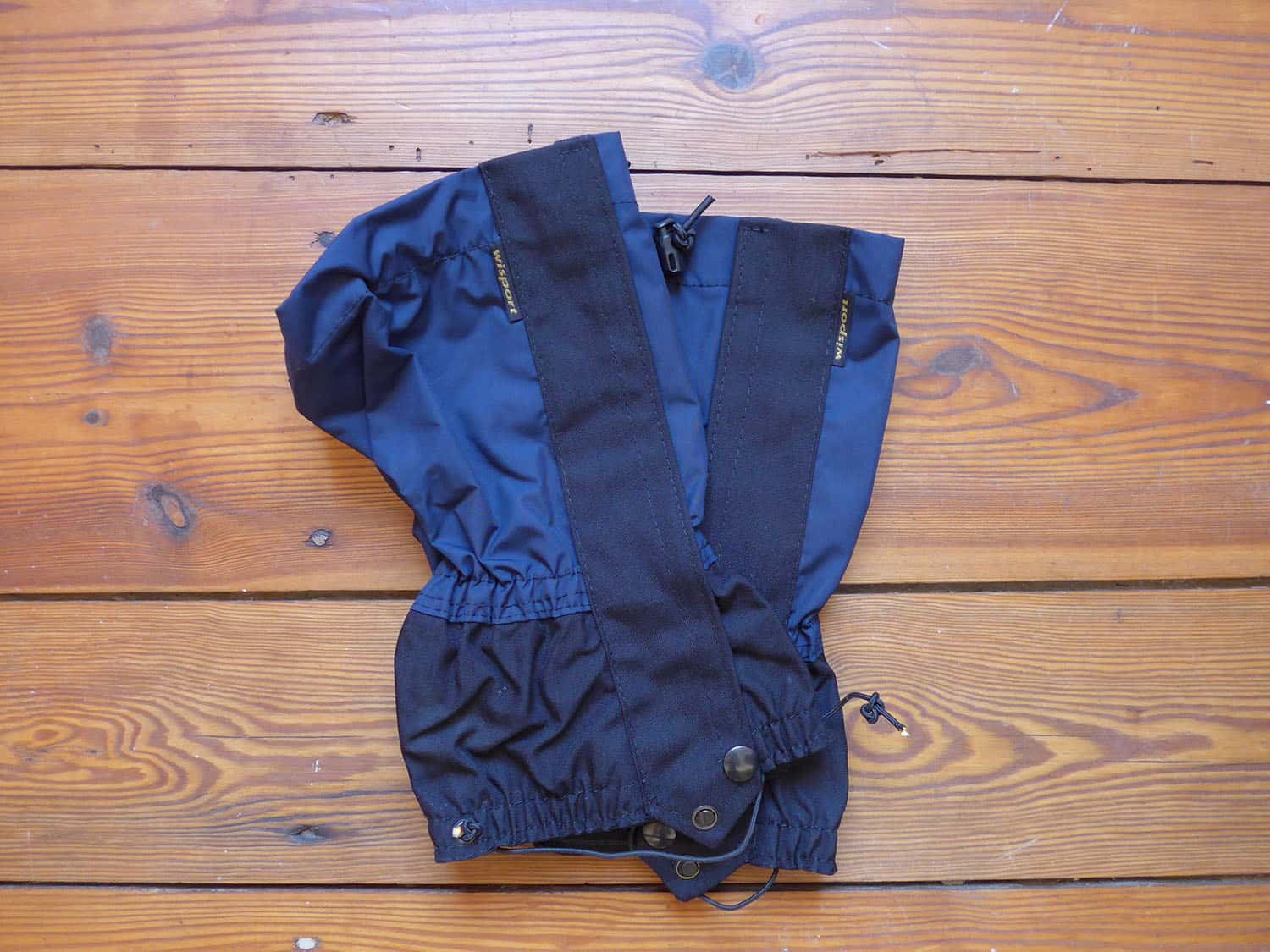 I wear gaiters all year long. Of course winter gaiters are completely different to the summer version. They're knee high and have a waterproof membrane for protection against snow. Doesn't matter what type of trail you hike I would always recommend wearing gaiters in winter.
Winter Hiking Outfit – additional tips
Never wear cotton or silk – it's a common saying that cotton in the mountains means death. It doesn't breathe and absorbs all the moisture which in the end leaves you wet and wet means cold. It also dries long. Just forget all your cotton shirts, panties, socks etc. and leave them for a summer garden party.
Start cold – it might sounds little sadistic but it's really much better to start your hike little "under dressed". Soon enough your body will warm up and you'll be fine. By doing that you will avoid overheating and getting wet. Also you won't have to stop and remove the unnecessary layers. Of course you should always have all the necessary layers with you in case you need them.
Add a layer – when you make a break put on an additional layer. This way you will preserve already produced heat and won't have to warm yourself up from zero again.
Never wear single, thick layer. Always remember to have many thinner layers you can rotate as you need to. Big, warm sweater is good for going shopping but not to go hiking.
There you have it – the principles of winter hiking outfit. I hope this guide helps you put your perfect clothing set together and stay warm on the trail!
OVER TO YOU – WHAT do you wear as a part of your winter hiking outfit? LET ME KNOW IN THE COMMENTS, TWEET ME OR WRITE ME ON FACEBOOK!
Disclosure: If I like a product and that product has an affiliate program, then I will link to that product using an affiliate link. Using an affiliate link means that, at zero cost to you, I might earn a commission on a product if you buy something through my affiliate link.