For many hikers winter is the time of rest, away from the trails. Many people think that hiking in winter is hard, cold, super tiring and overall exhausting.
Want to know the best part?
It doesn't have to be! As everything it's a matter of planning, preparation and attitude.
If you've been searching for all possible winter hiking tips look no further!
In today's post I'm presenting you with the ultimate guide to hiking in cold weather. You'll learn how to prepare, what to wear, how to stay safe and more.
So without further ado – let's dive right in!
Winter Hiking Tips – All You Need to Know Guide
Planning
Proper planning is very important every time you go out into the mountains. But it's especially true when you do winter hiking – the conditions are much harsher and more demanding. When planning and preparing your hike keep in mind the following:
Check the weather forecast – by weather forecast I mean not only temperature but also precipitation, fog, wind speed and avalanche reports. All those factors have a major influence on the quality and safety of your trip so make sure you know exactly what is going to happen. NOAA website offers full forecast for any area you'd like to hike. You can also search for hiking forums about your area and if you're planning to visit a national park check their website for newest trails' conditions.
Check the daylight hours – You know that days in winter are much shorter so keep that in mind when planning your hike. You might be in shape to hike 20km but the question is do you have enough time to do that in winter daylight time? You can check the daylight hours of any area you wish at any day of the year on this great website.
Choose a proper trail – now if you're not an experienced winter hiker choose a trail that is relatively easy or easier that you might hike in summer. Taking the above points into consideration the easier trail will probably the best choice. Also check what are the road conditions of the roads leading to the trail head – you don't want to be stuck even before reaching the trail. Also study the map of your trail area and know any possible emergency "exits" you can take in case something goes wrong.
Plan to start your day early – be prepared to wake up when it's still dark and start your hike early. Due to short days you want to use all the daylight you have for hiking. You can sleep and rest when it's dark.
Clothes & Layering
You know about layering and how useful it is. In winter though it becomes a key to staying warm, dry and comfortable. Mastering the skill of proper clothes layering is essential if you want to do winter hiking.
Gear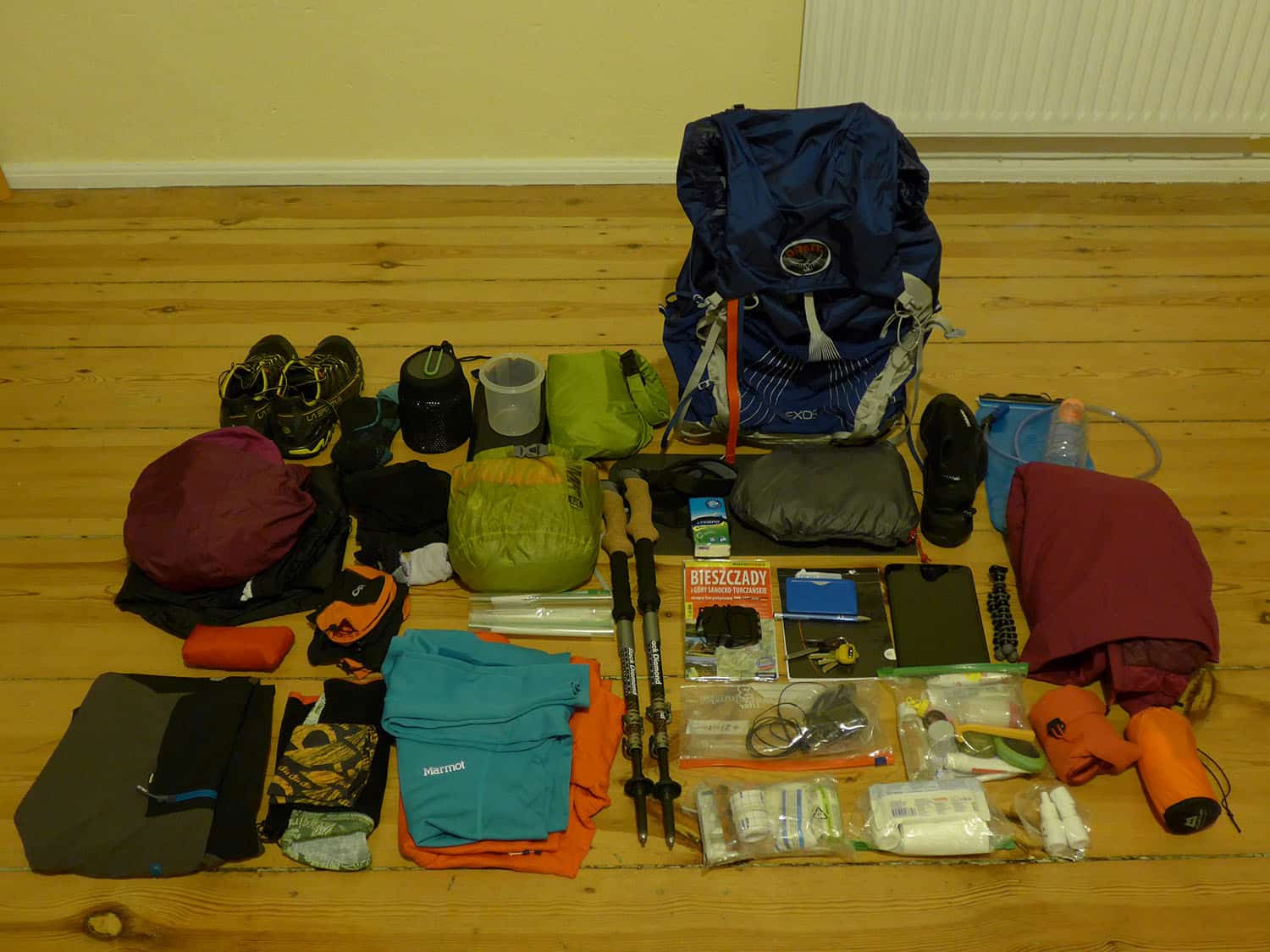 There are couple of items that are essential for winter hiking. They make the whole story safer and more comfortable. Keep in mind that some gear pieces will depend on the trail conditions and type of hiking you'll do.
Gaiters – I wear gaiters all year long. Of course winter gaiters are completely different to the summer version. They're knee high and have a waterproof membrane for protection against snow. Doesn't matter what type of trail you hike I would always recommend wearing gaiters in winter.
Microspikes/Crampons – depending on the conditions you might need some extra traction. This is when microspikes come in handy. They're relatively light and you can use them in variety of conditions like rocks, ice and not too deep snow. Carry them with you just in case. Also before going on a trail learn how to use your spikes – it's slightly different walking with them on so make sure you know what you're doing.
Trekking poles – for me taking these is a no brainer. I use poles whole year round and winter proves to be the best time to put them into work. They provide stability and help you move through snow and ice. Make sure you buy trekking poles compatible with snow baskets. Those little plates work like a small snow shoe for you pole and prevent them from sinking down.
Ten Essentials – you can find all you need to know about those items in this Ten Essentials article (contains free printable checklist for better planning). In short it's a set of items that provide you with safety and first-aid and they should always find place in your backpack. Make sure you create your set and take it with you.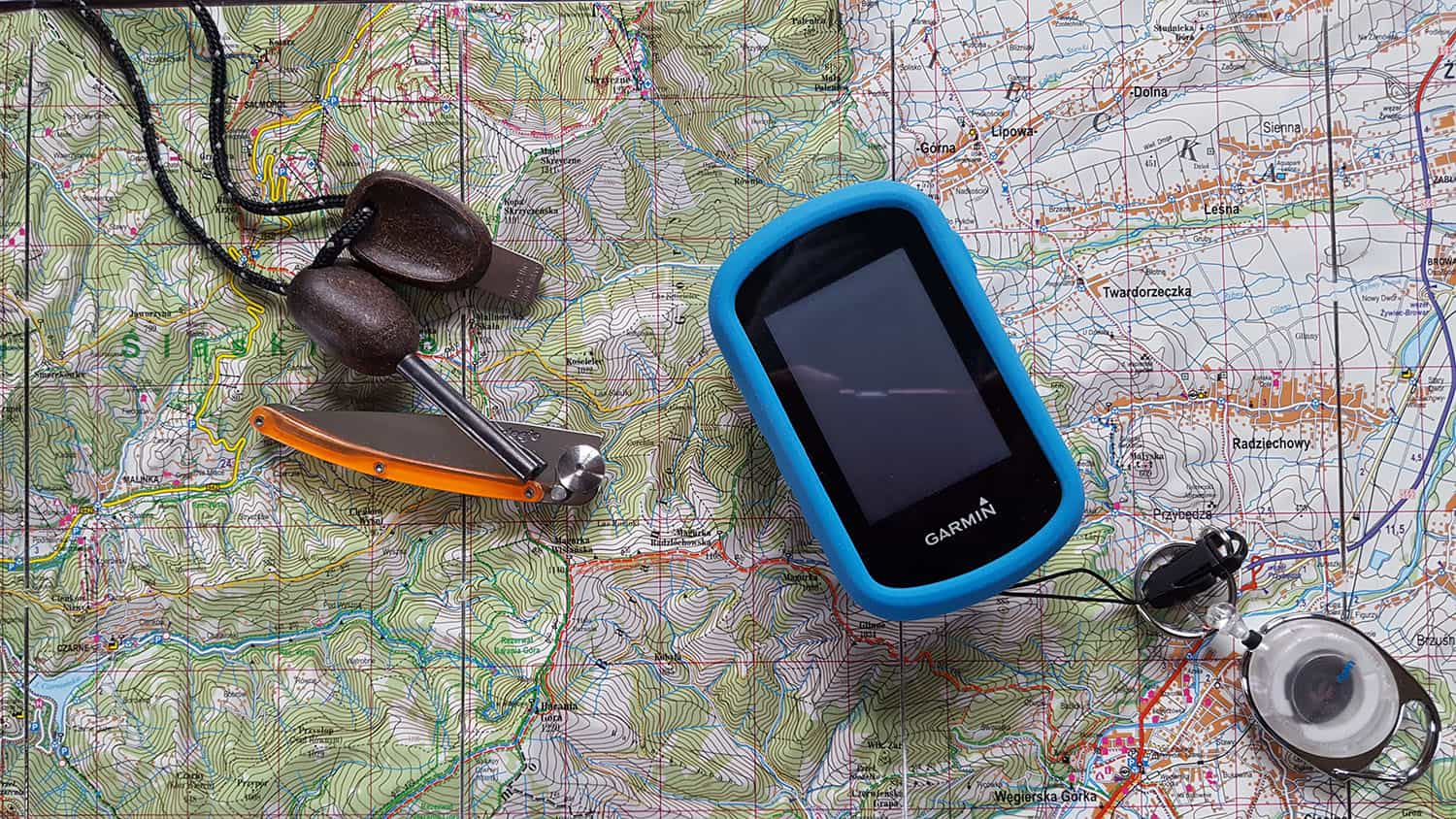 Map, compass, GPS – always take a compass and a map of the area you're hiking in. Trail blazes might be covered by snow as well as parts of the trail that's why you need a support of your map. As an additional backup you bring your GPS along – just remember when in doubt always consult both GPS and your map.
Snowshoes – first of all practice walking with them before embarking on a more serious trip. Another thing is to know when exactly to use snowshoes – they have a specific use. Wearing them will be beneficial in high, unconsolidated snow where otherwise you would be left knee deep in snow making deep holes. It's not only tiring for you but also destroys the trail for any hiker coming after you. When buying snowshoes make sure they have integrated crampons for additional traction on ice or packed snow.
Sitpad – it's a small and light piece of your gear but extremely useful. It isolates you from the ground during your breaks preventing heat loss by conduction. Use it during all your breaks which should be short but frequent.
Spot – it's not a necessity to bring a satellite messenger with you but if you already have one it won't hurt. Spot is a great piece of gear enabling you to send SOS messages, check ins, route tracking by your loved ones etc. Winter hiking poses more danger to a hiker and satellite messenger can be a lifesaver.
Hand/feet warmers – you can bring those along for additional comfort. Believe me they will feel good when you need them. Also you can use your hand warmer to keep your water bottle from freezing – just put it into the insulation sleeve and you're set.
Backpack – as you can see it's quite a lot of gear you need to bring along for winter hiking. Yes, you're right – you need a proper backpack to fit it all in. It will need to be big enough as well as able to carry all that weight. Make sure the carrying system is comfortable and the pack durable to withstand winter conditions.
If you're doing a day hike I would recommend a backpack with around 40l capacity – it should have enough space even if you decide to take a sleeping bag just in case. If you're doing for a multi day hike then you backpack needs to be bigger something around 60l as you will need to bring not only more food but also shelter, more fuel, sleeping pad etc. Also when getting a backpack check if you can attach snowshoes to it. For the smaller pack I would recommend Gregory Amber 44l – it's a very comfortable and tough pack with enough room. For bigger packs I would go for Osprey AT series with an exceptional suspension system – Aura model for women and Atmos for men.
Food & Hydration
It's another thing that needs to be adjusted for winter hiking. The types of food will change slightly as well as how to prepare them. Also what and how you drink needs to be revised.
Winter hiking food
Hiking in cold temperatures has a very different effects on you body than warm weather hikes. Heavier gear and clothing and walking through snow will increase your energy expense. Also cold weather puts additional strain on your body – it needs more energy to keep itself warm and warm up the air you're breathing in.
Staying warm and full of energy will depend on you eating sound food. In winter you'll need additional 500 – 1.000 kcal per day ( i.e. ~4.500 for men and ~3.500 for women ) to balance the energy you use.
Warm backpacking meals are a preferred choice in winter. However those types of food will take longer to prepare due to cold air, the necessity to melt snow for water and longer cooking time. It's understandable that many hikers choose ready, freeze dried meals in winter – they're the easiest and fastest to prepare. You can also bring grocery store foods but remember they should be  light, quick to cook, easy to transport and not containing water (like fresh fruits etc.)
Now let's go through the a day hike meals and what to consider making them.
Breakfast – winter backpacking breakfast should be warm, nutritious, easy and quick to prepare – the last thing you want is t crawl out of your warm backpack and spent ages preparing it. It should contain a balanced mix of complex carbs, protein and fat as well as little bit of simple carbs. Simple carbs will give a quick boost to start your hiking day and the rest will steadily release energy as you go. Check out my simple and easy recipes for warm backpacking breakfast
Lunch – after couple of hours of hiking you might fancy a warm lunch. The choice is yours but I would suggest eating a snack type of lunch or something you don't need to heat up. When you stop you lose your heat and your core temperature drops – which you want to avoid. I would suggest you eat simple, quick lunch like peanut butter tortilla coupled with some power bar (you can make them yourself) or GORP. Eat nuts, chocolate, nut butter, crackers, bagels, tortillas, cheese etc. Just try avoiding too much sugar – it will warm you up in the beginning but it burns fast and your body temperature will fall back down fast.
Dinner – this is the highlight meal of the day. Make sure you bring something that is appealing, something you would wait for. If your meal doesn't look inviting or interesting at home it definitely won't on the trail. Good idea is to drink something warm while you're preparing your food – soup, tee or cocoa are great. Once you stop you'll start cooling down and sipping on something warm will keep you comfortable.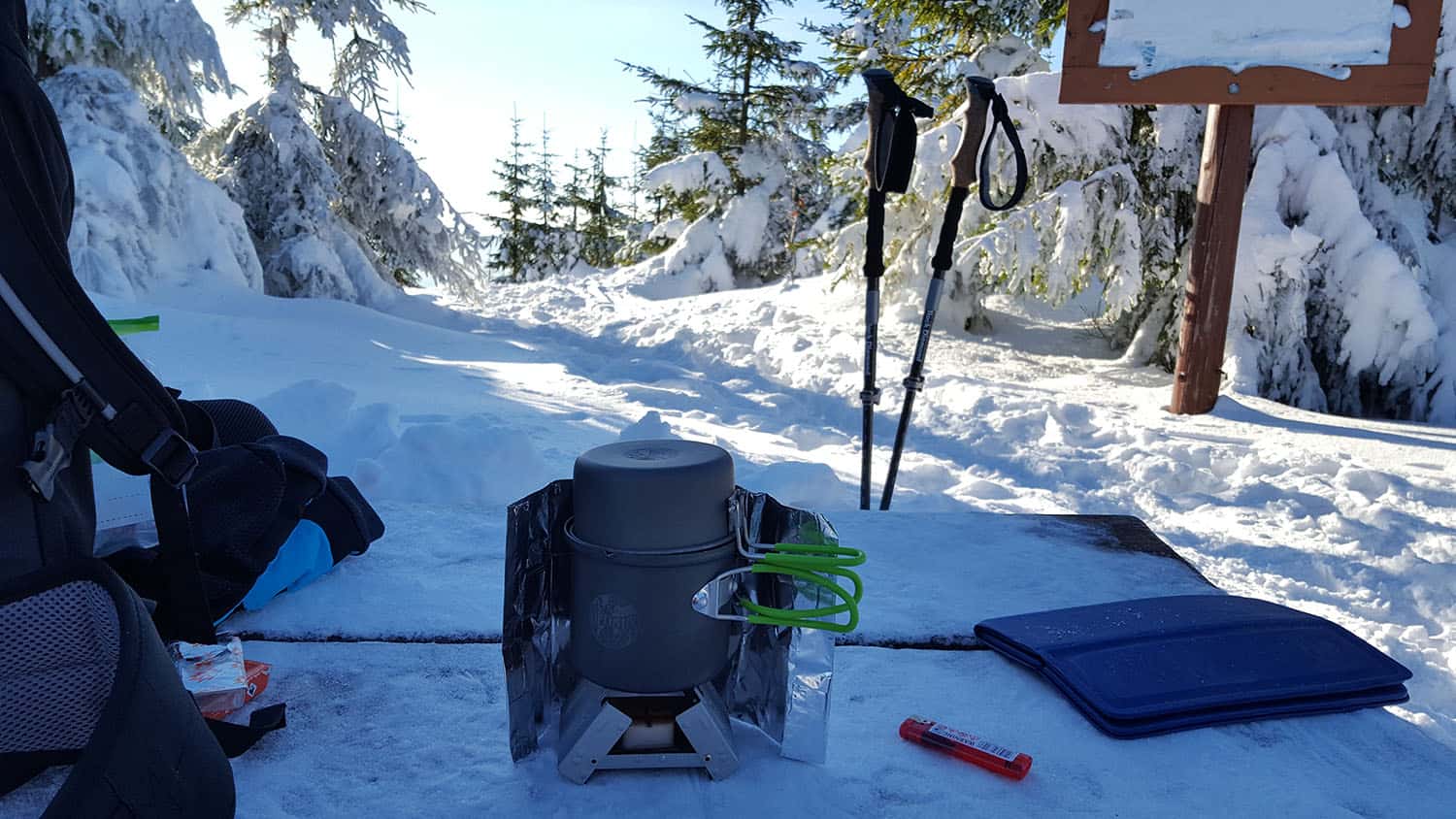 Your dinner should be warm and rich in complex carbohydrates. Dishes like pasta with a cheese sauce, quinoa with a soupy base and dried vegetable, couscous with dried fruits, beans and lentils etc. will leave you warm and full for the night. If you're having your dinner early eat something rich in fats to keep you warm during the night. Dark chocolate is a good choice.
Winter backpacking food and preparation tips
Don't bring fresh foods or wet meal pouches – apart from higher weight and bulk they also contain a lot of water which make them prone to freezing. Take only dry foods like pasta, couscous, quinoa, or dehydrated food.
Don't bring too many dishes – what you really need is a bowl and a spork. You may also want to bring additional, light cup for drinks. Make sure your spork is made of plastic not metal – metal is not good for winter cooking, it heats up fast and you might get burnt.
Re-package your food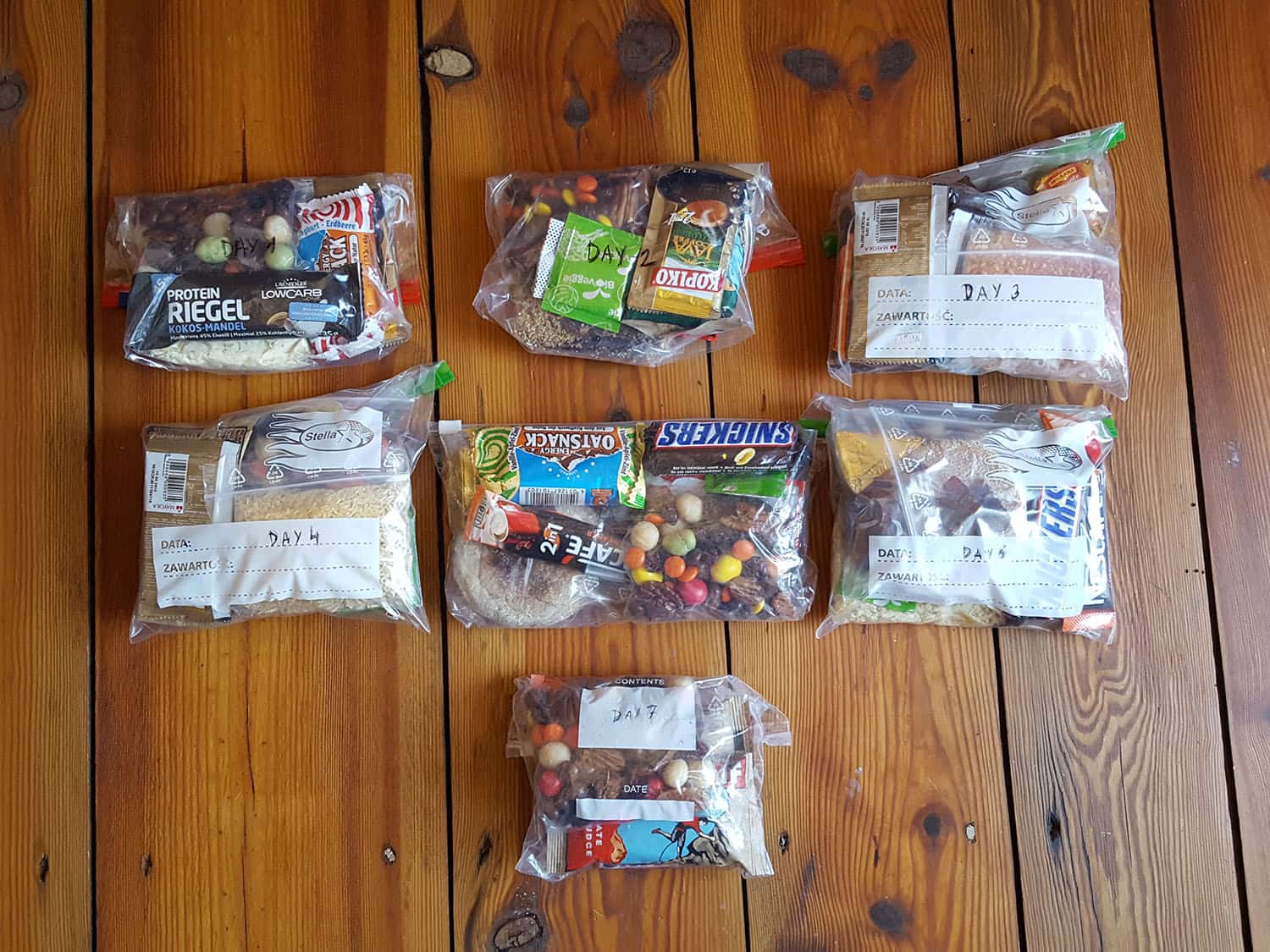 Make sure you repackage any food you bring into freezer bags. This removes some bulk and packaging weight. It also makes your food easier to pack. You have two options to organize your food – you can either make food bag for each day where you will have everything you want to eat on a given day. Or you can organize your food by food type – bag with breakfasts, lunches etc.
Winterize your stove – make sure to bring a wind screen or a reflector with you it will speed up cooking time. Also when re-hydrating your food make sure you do it with the lid on and your pot in a pot cozy for increased efficiency.
Keep your lighters and stove gas in a warm place. Cold gas is performing very poorly so make sure you have it ready to use.
Hydration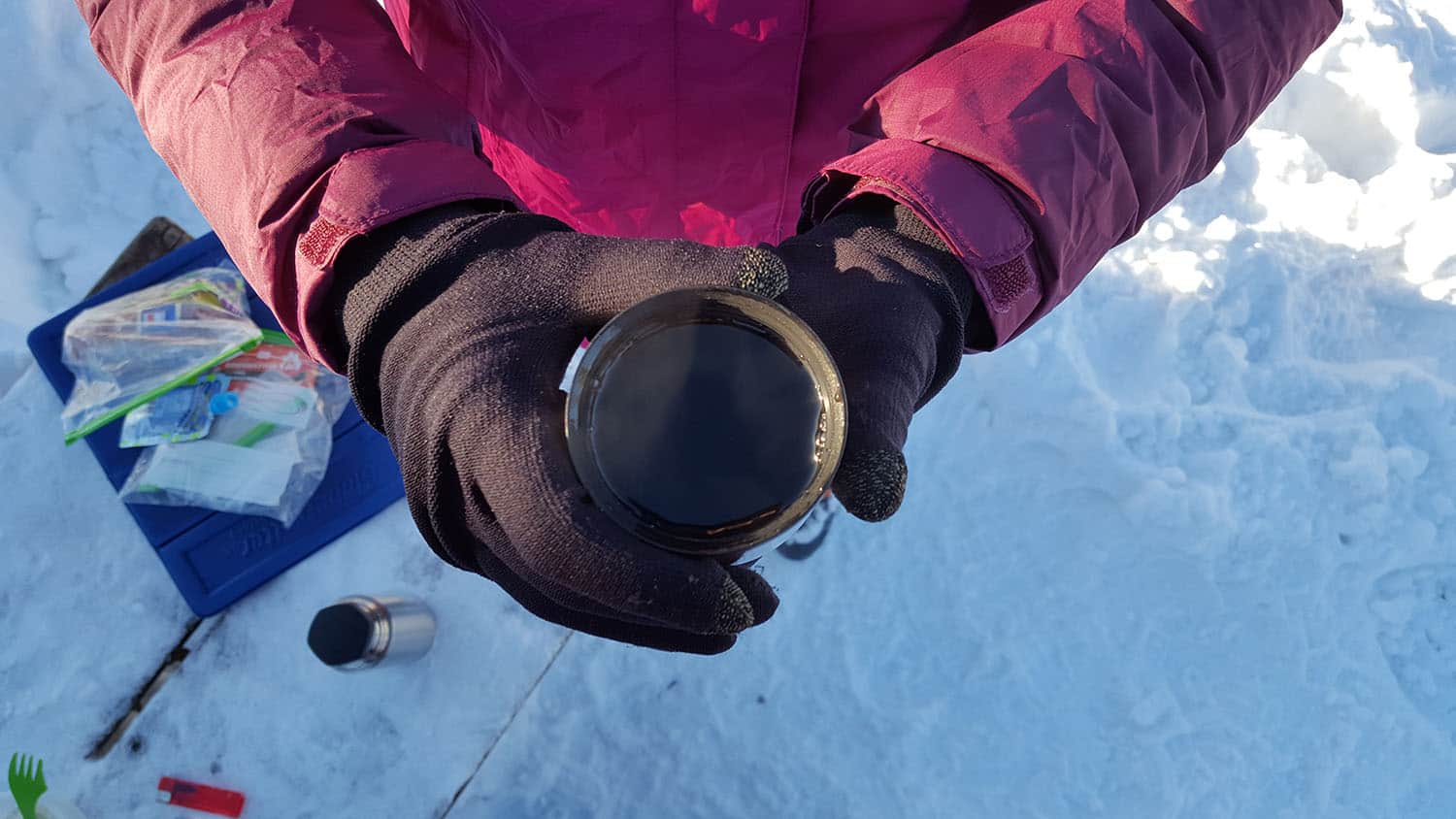 During winter hiking we don't feel thirst so much. Also cold weather doesn't encourage us to drink often. It's dangerous because we still need water – it's essential for digestion as well as temperature regulation. Very often hikers dehydrate during cold weather hikes that's why it's so important to drink regularly.
Winter Hydration Tips
Drink regularly – even if you don't feel thirsty just drink cause you know you have to.
If using a water bladder blow back the rest of the water from the hose after taking a sip to prevent it from freezing. You can also buy a special neoprene hose insulation. At night remove the bladder from your pack and put close your sleeping bag to keep it relatively warm.
If using water bottles turn them upside down when storing. The water is freezing from top so by turning it around you make sure that whenever you need you will have some water still unfrozen ready to drink. You can also use a water bottle insulation sleeve and as a bonus use a hand warmer to protect your water from freezing.
Don't drink cold water – in winter your body needs all it's energy to keep you warm. By drinking cold water you waste this energy on warming up cold liquid which can give you chills.
Fill up your water supplies every time you can – in winter it's more difficult to get water as streams and other water sources are frozen. Refill your supply every time you can.
Drink warm, hearty beverages before going to sleep. They will feel very good and keep you warmed up before going to bed. Cocoa, soup or cider are great. Avoid drinking alcoholic or caffeinated drinks – alcohol widens blood vessels close to the skin which causes heat loss and caffeine pulls water out of your body which you don't want.
Other Winter Hiking Tips
There are couple of more valuable tips I would like to share with you which don't fall under any specific category.
Try to go with an experienced friend – if it's your first winter hiking trip try to find someone who already did this kind of thing. It's safer for you and you can also learn a ton from someone with a proper experience.
Leave your trip details with someone back home or a ranger station. It's something you should practice all year round but it's important especially in winter when conditions can get really tricky.
Be avalanche aware and observe snow around you. Even if you're not an expert you can notice that something is not right and react in time. Don't wander into high avalanche risk areas without proper training beforehand.
Learn to recognize signs of hypothermia and frostbite – know the symptoms and how to treat them. This small guide provides you a quick overview on how to recognize any of the above.
Winter hiking hygiene – for most parts similar rules apply as to other type of hiking. The only thing I might add is that digging a cat hole might be problematic in winter – in this case make sure to pack out any waste you produce and take it out with you. Leaving your waste buried in the snow is not a solution – snow will thaw away and the waste will resurface – not a pleasant thing.
Get your FREE Step by Step Guide toUltimate Hiking Hygiene!
---
Learn how to simply and effectively
stay clean in the backcountry.
Use your common sense – it's probably one of the most essential "gear pieces" you should take with you. Make sure to know when to stop or turn around – reaching home safely is far more important than reaching the summit (been there, done that) Common sense and good judgement will keep you from harm and ensure safety. Adventures of Fox in the Forest has a great article on mental strength and common sense when hiking in winter.
Getting to the top is optional, getting down is mandatory.
Ed Viesturs
Winter is a beautiful and magical season especially in the mountains. Hopefully with the above guide and knowledge you will be able to experience nature's beauty this winter, develop new skills and become a better hiker. Good luck!
OVER TO YOU – WHAT DO YOU WEAR AS A PART OF YOUR WINTER HIKING OUTFIT? LET ME KNOW IN THE COMMENTS, TWEET ME OR WRITE ME ON FACEBOOK!
Disclosure: If I like a product and that product has an affiliate program, then I will link to that product using an affiliate link. Using an affiliate link means that, at zero cost to you, I might earn a commission on a product if you buy something through my affiliate link.