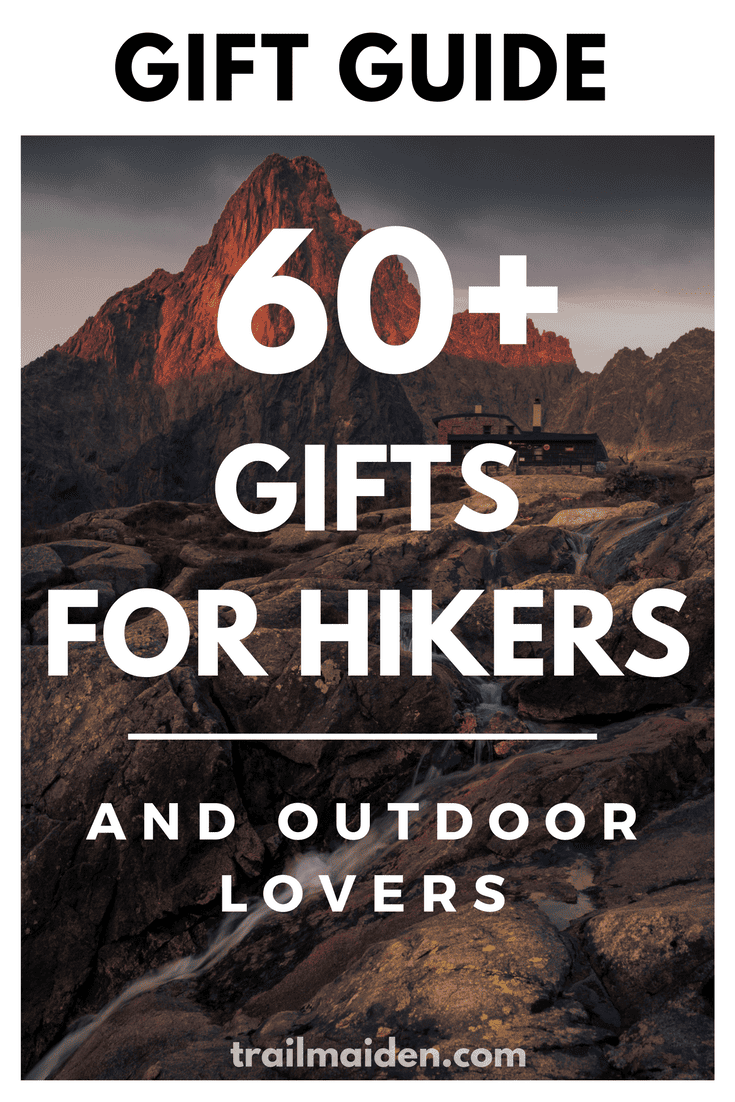 It's already this time of the year when we need to start thinking about gifts for our hiking, backpacking, camping loving friends and family.
Choosing a fitting gift for a hiker can be intimidating, right?
That's why I carefully made this holiday gift list to make your life easier. All the gifts ideas below are useful and functional items only – no useless crap no one needs!
Right below you will find the complete gift list, over 60 positions. You can also use one of the below buttons to narrow the selection.
I hope this holiday gift guide helps you find a perfect outdoor gift for your close ones!
Gifts for Hikers – 2016 Outdoor Holiday Gift Guide
You can never have enough of those neck warmers! This 100% merino wool buff should find it's way into everyone's gear closet. As all merino products it's warm, soft and stays odor free even after extended use.
Great bit of gear. Very handy, and can be used in so many ways.
Amazon reviewer
Knowing how to use a map, a compass and a GPS is an essential skill for every hiker. This book is one of the best resources to get familiar with land navigation. Don't let your beloved hiker to get lost.
Proper first-aid kit is one of the most important gear pieces. It's a part of hiking ten essentials and should be always in any backpack. These kits are lightweight and watertight which makes them a great choice.
It's  great sock stuffer for hikers – completely biodegradable, liquid soap. Everyone taking multi-day hikes will need this soap to clean themselves and wash their clothing or dishes. Mint version is great, it leaves you with a super fresh feeling.

Very good lightweight gaiters for every hike. They provide protection against dirt and debris as well as keep mud and some moisture away. Stretchy material is quite durable. Must have for every hiker.
Great gators for keeping crud out of trail runners. Super light and breathable and even kept out slush when hiking through the spring thaw for a short distance.
Amazon Reviewer
Lightweight Speed Demon socks made with mixed fibers (containing merino wool). Their primary use is running but they will perform as well while hiking and backpacking. Breathable with enough padding are a great choice for highly active men.
Speed Diva is a variation of speed demon socks – designed especially for women. Highly wicking and breathable are a perfect choice for hot day hikes or high performance activities. Made with synthetic and merino mix they bring the best of two worlds together.
This is a small piece of gear I recommend to everyone. There are so many occasions when you want to sit but the surface is wet, dirty, rugged etc. This foldable seat packs small and weighs so little you won't know you carry it. I learned to love it – hope you will to.
I keep it in my daypack at all times. Great for a seat in the woods when yuo don't want a wet butt. Also great for snow if you don't want a cold butt.
Amazon reviewer
One of the best and lightest filters on the market. It does a great job cleaning your water – I never got sick since I use it. Its 0.1 Micron hollow fiber membrane removes 99.999% of all bacteria. It's small and highly effective.
Small but useful gadget – heat pouch is designed to keep your food warm 30% longer. It can be used for all freeze dried food pouches as well as Optimus Terra Weekend and Solo cook pots or any pots 12 inches wide.
These drops are a great lightweight solution for water treatment in the outdoors. Mix the two ingredients, add to your water, wait and you're good to go. Drops don't change the taste of the water. One package can treat 30 gallons of water.
Weighing only 4 oz. this set is designed for everyone who values low pack weight as well as packability of the gear. The complete set packs flat and takes very little space. It's a great option for everyone who eats in the outdoors.
I backpack somewhat regularly and camp even more regularly and this set is amazing. I'll probably be buying 1-2 more in the coming months because I love it so much.
Amazon reviewer
Let's be honest – we all need to poop, even in the outdoors. And to keep it nice and clean a hiker needs a trowel. This one is lightweight, small and very durable. It cuts through roots and can even serve as a tent peg.
This is probably #1 item hikers use to prevent and treat blisters. It's fairly inexpensive but it can save you a lot of suffering. Protect hot spots or fragile zones are you're ready to go. A perfect gift for hikers.
Tenacious tape is probably number one when it comes to fixing your gear if it breaks in most inappropriate moment. This kit is ideal for quick field repairs – synthetic or natural fabrics, it works on all. Great stocking stuffer for hikers!
Best product to repair a leaky air mattress. Ive tried other products in the past and this one blows the others out of the water!
Amazon reviewer
No one likes to be eaten alive by mosquitoes or worry about lime disease.  Every hiker should carry a good insect repellent and use it regularly. This spray is highly effective and will keep the bugs away.
This is one of my favorite pieces of gear. It's a small, flexible and lightweight tripod you can carry everywhere. You can attach it to you hiking pole and selfie stick ready or wrap it around anything and take selfie from a distance. Really good product for outdoor photography.

This is the best pack sack I have ever used. It's super light, durable and watertight. It good for keeping your dry set of clothes or food. You can organize and stove your gear and added weight is marginal.
There are different lightweight ways of carrying your ID, cards and money on a hiking trip but having a proper hiker wallet is the best of them. It's small/big enough to contain couple of cards, coins and notes. Keep all your precious belongings in one place.
perfect ultralight wallet
Amazon Reviewer
I'm a huge fan of Clif bars is any hiker you know as well? If so I'm sure they would be happy to receive a gift of Clif Bar bundle – either big pack of one taste or even better an assorted selection. Best gifts for hikers are useful – this one definitely is.
By far the best hiking socks I've tested. High percentage of merino wool makes those socks keep you feet warm even when wet. The synthetic fibers speed up the drying process. All in all a very comfortable and functional sock.
Men's version of the above described hiking socks. Great moisture management thanks to well placed mesh zones ensures feet comfort. Flat seams prevent rubbing and blisters. Great hiking sock.
One of the best products to prevent blisters. It's an easy to use towelette which you can use more than once a day. It covers your feet with a slippery film and neutralizes any rubbing that may occur. I used it during 24h hiking challenge and I highly recommend it!

Every hiker should carry a compass and Sunto M-3 is a great choice. It's light and easy to use. It's also balanced for northern and southern hemisphere as well as enables to adjust a declination.
Take the adventure into your every day life! Outdoor inspired t-shirts in variety of designs and colors. Original and made with love of outdoors.
Great design quality! T-shirt is soft and fits great.
Steve - NY
This 1.1 or 1.8 l boiler is made of anodized aluminium which makes it light and durable. You can easily pack your gas and stove inside and together with collapsible handle it creates a nice, compact cooking system.
Boils fast, easy to handle and packs well with how light it is! Great value in this pot!
Amazon reviewer
One of the best hiking underwear for men. Mesh fabrics is breathable and light. It wicks moisture very well and dries quickly. They're stretchy and allow full movement freedom.

Great performance underwear for active women. Mixture of wool and elastic, synthetic fibers creates a very functional piece of clothing. Merino wool prevents bad smells and provides great temperature control.
Perfect underwear, quick dry, eliminate order. Well worth the price
Amazon reviewer
NG makes great illustrated maps. They're waterproof and tear resistant – perfect for the trail. A map bundle gift is a great motivational idea for every hiker.

This is a must have gift for all hikers hiking in bear country. Bear encounters are dangerous and being prepared for them is essential. This spray has maximum strength allowed and will keep a distance of 30 feet between you and the bear.

They're probably the most popular insoles on the market. The offer great arch support and are suitable for any type of footwear. Replacing original insoles with Superfeet immensely improves hiking comfort.
I went all day on my feet without pain. I forgot I had a problem. Instant cure.
Amazon reviewer
I've been an Anker power bank user for a while now and I'm really happy with it. They charge fast thanks to Quick Charge 3.0 technology and provide enough power to support all my necessary electronic devices. Solid piece of gear.

Another piece from Anker I'm recommend – a lightweight and efficient solar charger. It's thin and compact and provides power independence on long hikes. Together with a Anker power bank it creates a great off grid power source.
This has been terrific for off-grid multi-day hiking to recharge iPhones, Samsung Galaxy phones, and GPS devices. It is light, easy to pack and deploy. Great value!
Amazon reviewer

I can't imagine a good night sleeps without a pillow, even in the outdoors. Aeros is a really comfortable pillow with a nice soft surface. The stretchy material works great and you can regulate the firmness using special valve. Perfect outdoor gift.
An ideal gift for all hikers who just can't live without their coffee! A lightweight option for a morning espresso or americano in the afternoon. Easy to use and clean makes a really great coffee in just about 2 minutes. A must have gift for all outdoor coffee lovers!
This kit makes a wonderful coffee. I can enjoy the same quality coffee I would have at home out in the bush. Bliss.
Amazon reviewer
Good base layer is essential for every hiker. It keep us warm, wicks away the moisture and ensures proper comfort. And there's nothing better for this job than merino top. Smartwool is one of the market leaders and produces great thermal underwear.
Bought this for my wife who is always cold in the winter. It is soft & very warm, she wears it all the time.
Amazon reviewer
Icebreaker is another leader when it comes to merino clothing. Their Oasis half zip is a great choice for a colder weather conditions. Zipper make the temperature regulation easy and merino wool provides warmth and comfort.
If you really don't know what to get or can't decide just offer a gift card. It might seem un-personal but it's better than buying something completely useless. The freedom of using this card is a great thing. You never know when you'll need something and then having such a card is a great joy.
Every day use high quality flannel – functional and good looking. It does not only look good but is also functional – wicking and quick drying. Available in many colors for outdoor loving men.
If not done yet it's high time to upgrade an old sleeping mat. This ultralight mat provides amazing comfort thanks to its Air Sprung Cells. It's easy to inflate, deflate or regulate the pressure with a low profile valve. It's a great gift for hikers trying to reduce their load weight.
Light, and comfortable all you can ever ask for!
Amazon reviewer
Xero makes one of the lightest barefoot sandals on the market. They are perfect ultralight camp shoes every hiker should have. They weight close to nothing and are really comfortable. You can roll them which makes them really pack friendly. They come in men's and women's versions.
Prob the best product on the market that I'm aware of and work great! (…)
Amazon reviewer
I personally own the X-Mug and am super satisfied with it. It folds flat and is very comfortable to use. This set is good when cooking for a group of people and it posses the same great features as the solo mug. All pieces are BPA free, easy to clean and heat resistant.
I love this day pack – it has all the features you might require from one day trip backpack. It has water bladder pocket, hiking poles loop, stretchy outside pockets, it's spacious and it's light. And the greatest feature is that you can remove the foam back and pack the backpack into its own pocket for ease of transport!
I bought this for day hikes. It can hold everything necessary for an all day adventure. Rides well, cool, and comfortable all day. The max load I've carried in it was 13lbs (a lot of water) and I barely felt it.
Amazon reviewer
Ultra-lightweight (3.01 oz) wind jacket that packs extra small. This jacket is perfect for all windy conditions when you need lightweight but sure protection. It has adjustable hood and hem and DWR finish that repels water.

Great windbreaker for high altitude, windy summer days. It stops wind and repels water. It's ultra-light and stowes into its own zippered chest pocket. Adjustable hood and venting system are also there making it a great gift for outdoorsmen.
Multi-Tool of the best quality is the gift for hiker s who like to be prepared for every possibility. 17 tools made of highest quality stainless steel with 25 years guarantee (!). It weighs 8 oz and comes with a dedicated sheath.
SPOT is a highly valued device. It posses a number of features especially useful when hiking remote regions. SOS with a push of a button, tracking, check in and many others increase hiker's safety and let the family stay calm.
Best "insurance" for those who love adventure off the grid! Highly recommend!
Amazon reviewer
This is probably one of the most popular light insulation layers and it's like that for a reason. This lightweight mid layer has a great weight to warmth ratio and can be used in variety of situations. Filled with Primaloft Gold it keep you warm even when wet. A great gift for male and female hikers!
Second generation of super popular fitness tracker. New version is packed with features and now has change-able bands. Sleek and good looking still provides a great quality tracking. Gift for all hikers who like to exactly track every step they take.
I love Kindle. It truly is a great device especially when you're sitting in your tent on a rainy day. The battery holds for weeks and you can load hundreds of books onto it. Paperwhite has the advantage of built-in light ready to use in low light conditions. It's the best companion on a multi day hikes.

A durable every day shirt made with soft, cozy flannel. A feeling of outdoors at work or wherever you are. Great fit and design make this shirt a perfect gift for outdoorsy woman.
These stylish sunglasses have everything you requite from a functional piece of gear. Polarized lenses reduce the glare from snow, water and sand reducing eye strain. They block UV rays from all angles and increase contrast. Rubber nose prevents slippage and make those sunglasses fit comfortably.
High performance woman's sunglasses with interchangeable lenses for a variety of conditions. Hydrophilic nosepiece and temple ends become "stickier" when wet providing great grip. Polycarbonate lenses are scratch and impact-resistant.
MSR Wing tarp is a great gift not only for the ultralight hikers. It can serve as a main shelter as well as additional protection. Made with 20D ripstop nylon weighs only 13.4 oz and it packs really small. It can be paired with mesh house creating a proper tent.
Newest baby from well known Jetboil family. More lightweight but still having all the great features. 0.8 l pot with integrated cozy, simmer function and drink-through lid. One of the best cooking system you can get.
Exos 48 is a great transition backpack for everyone who wants to start backpacking light. Comfortable carrying system, external mesh pockets, water reservoir pocket, hip belt pockets and removable top lid make this backpack a great choice.
love it love it love it. Super minimal, but still feels secure on your back, durable, and useful.
Amazon reviewer

Thermoball is a synthetic fiber imitating down in it's stricture but keeping the great insulation features of a Primaloft fibers. This superb insulation jacket is light and has a great warmth to weight ratio and will keep warm even when wet. It packs into its own pocket for ease of transport.
Who wouldn't want to get a GoPro as a hiking gift? The newest version is packed great features and is one of the best action cameras on the market. If Hero 5 is too expensive you can still go for Hero 4 which also a great piece of gear.
love the quality of video. Trust me it's definitely worth the money.
Amazon reviewer

New tent is a really exclusive gift for any hiker. Especially such a great tent as Big Agnes MtnGLO with built in led lights for a those dark hours. One of the most popular tents with an upgrade is a good choice and will serve well for years.

This award winning, high quality sleeping bag  is filled with 725 cuin goose down is really warm. It has great trapezoid feet space and excellent hood. It packs quite small and it has a great weight to warmth ratio. An outstanding sleeping bag.
The quality is excellent and it's a very warm, lightweight bag, and every compact in the stuff sack. (…) This is an excellent bag for you. Especially if this is your first down bag.
Amazon reviewer

Warm down jacket for cold weather conditions. Loved my many hikers for it's great performance. Filled with 800 fill-power goose down provides great amount of warmth. The outer of the jacket is DWR coated for water repelency.

Men's version of super popular down jacket. Great fit and design paired with nice design. Can be worn in the outdoors as well as in town. Filled with 100% traceable goose down is a great choice for every hiker.

If you really don't know what to get or can't decide just offer a gift card. It might seem un-personal but it's better than buying something completely useless. The freedom of using this card is a great thing. You never know when you'll need something and then having a gift card is a great joy.
Garmin is a world leader when it comes to GPS units. Oregon 650 is a top quality GPS with built in camera, touch screen, bluetooth and number of other great features. It also automatically switches between portrait and landscape view for ease of reading
Buy a Garmin (whatever!) and worry about other stuff. This one won't be a problem. The cream de la cream of GPS machines.
Amazon reviewer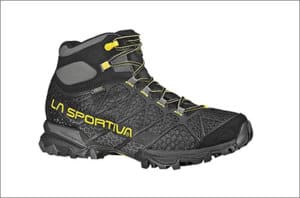 Waterproof hiking boots made with GORE-TEX Surround a new technology which provides 360 degree comfort and all-around breathability. Vibram soles provide great friction and stability. La Sportiva Core is a great shoe for everyone looking for a high quality waterproof footwear.
I paired this with superfeet green and it is awesome. Very comfortable, light weight and breathable. I put these boot on a cold hike at yosemite last new year. It's totally kept my feet dry. Five star boot!
Amazon reviewer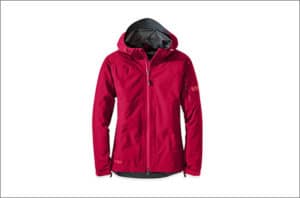 Extremely good hardshell jacket made with GORE-TEX. Thanks to it's unique, poncho like ventilation system temperature regulation is very easy. It has adjustable hood and hem and packs small when not needed. A high quality gift for every hiker woman.
Functional hardshell for all difficult weather conditions. Made with GORE-TEX outer is waterproof, windproof and abrasion resistant. It's also softer and quieter than other hardshells on the market. Pit zip ventilation, great hood and well placed pockets make this jacket suitable for all types of outdoor activities.
Disclosure: If I like a product and that product has an affiliate program, then I will link to that product using an affiliate link. Using an affiliate link means that, at zero cost to you, I might earn a commission on a product if you buy something through my affiliate link.